Colm Meaney is in Sligo making Halal Daddy, a culture clash comedy in which he plays another Irish father who's up to ninety.   
Directed by Conor McDermottroe (Swansong: The Story of Occi Byrne) and written by McDermottroe and Adam & Paul's Mark O'Halloran, Halal Daddy is filming in the Yeats County for a number of weeks and will be released in cinemas next year.  
The Irish-German co-production tells the story of Raghdan (Nikesh Patel), a young British Muslim who heads to Sligo to get away from his controlling businessman father Amir (Art Malik).
Raghdan falls for local woman Maeve (Sarah Bolger) but romantic bliss proves shortlived when Amir arrives with a birthday present: a halal meat factory he has bought in Sligo Town. Meaney plays Martin - Maeve's father and the former manager of the factory.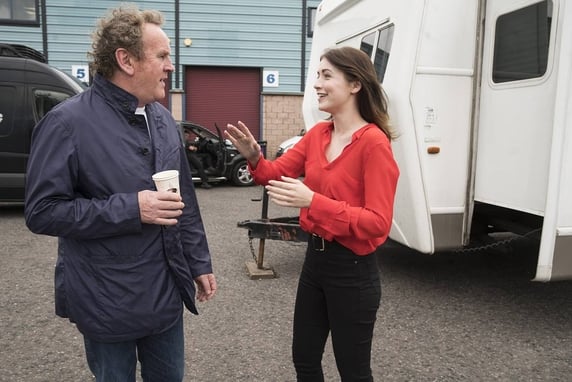 Colm Meaney and co-star Sarah Bolger during a break in filming
"Martin's a complete bull*******, which I love," Meaney told TEN during a break in filming. "I don't think Conor and the guys here were expecting me to come in and do a highly comic performance - but they've kind of got one! That's the way it came to life; it just grew into that."
Meaney was first approached about the role, which was written with him in mind, two years ago. 
"It took a long time, as it does these days, to get funding," he explained. "I re-read it again when they came back to me this year and it was as good and as humorous and as warm-hearted as I'd remembered it, which is always a good sign!"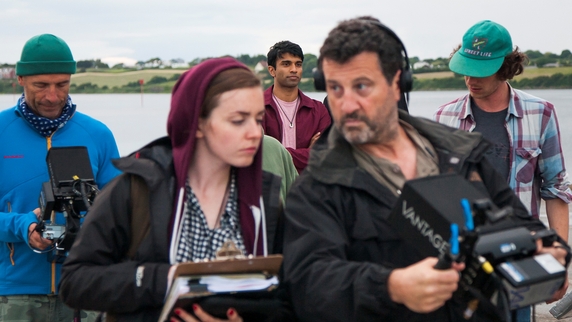 Director Conor McDermottroe (front right) on the set of Halal Daddy with star Nikesh Patel in the background
"It's an interesting idea," he continued. "The idea of a kind of multiracial Ireland now is always intriguing - it's not something we ever had to experience before. To address that area of things in a humorous way, I think, is very helpful.  I always look for the humour - I think humour's a real key into real life."
Laughing that playing a put-upon Irish patriarch seems to be a "recurring theme" when he comes home, Meaney contends that the comedy in Halal Daddy will travel. 
"The humour and the pathos of the piece are universal. It's one of those films that I think will have universal appeal."
"I have enjoyed [making] this very much," he added. "I can't believe I've never been to Sligo before!"
How Dublin can you get?!