Preacher star Ruth Negga has said that she relishes the opportunity to play an "angry young woman" in the AMC series based on the cult comic books.
The Ethiopian-Irish actress plays the character of Tulip alongside Dominic Cooper's Jesse Custer, and Negga said it's "refreshing" to see a woman like her being portrayed on-screen.
"She's an angry young woman. The angry young male experience has been explored quite elaborately, and often, but not necessarily the female equivalent - which is not actually too different", Negga told Digital Spy.
"It's sort of refreshing to see that point of view. I think that everyone involved really wanted to break the rules in terms of how a female comic book character could be portrayed.
"Tulip has the opportunity to be many things - and unfortunately a lot of female protagonists don't get that opportunity - so I feel very lucky to be a part of it, to be honest."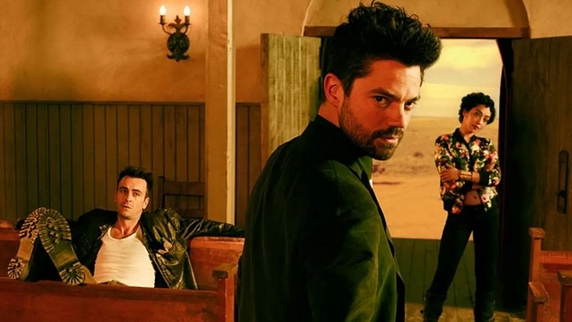 Dominic Cooper (centre) and Ruth Negga (right) in Preacher
The actress, who was born in Ethiopia to an Irish mother and an Ethiopian father, also opened up about diversity in television and film.
She said she doesn't like the term "colour-blind" as she doesn't want people to be blind to her colour, but would rather people be "colour appreciative".
"There's just something about the semantics of that term that suggests there's a problem there... and I don't think there is a problem", she explained.
"It makes me feel like... 'Let's not talk about her being brown, because it's a problem' - so it's not about being colour-blind, it's about being colour appreciative, and inclusive.
"It's just about being seen for who you are - noticing my colour but not having that make people nervous about casting me. That's what it is, really."
"I've met loads of black and brown and various people who are well into comics," she added. "We've got to move forward. I know it feels of late that we might have been de-accelerating in terms of things like this, but there's good things happening too. I think it's a good thing for everybody that we see the entire world reflected back at us on our screens."
We need your consent to load this YouTube contentWe use YouTube to manage extra content that can set cookies on your device and collect data about your activity. Please review their details and accept them to load the content.Manage Preferences
The former Love/Hate actress' star has been on the rise of late, particularly since she has been tipped as one of next year's Best Actress Oscar nominees for her performance in the new American film Loving, which received its world premiere at the Cannes Film Festival on Monday.
Written and directed by Mud and Midnight Special director Jeff Nichols, Loving tells the true story of an illegal inter-racial marriage in 1950s Virginia and stars Joel Edgerton as Richard Loving with Negga playing his wife, Mildred.
The Hollywood Reporter's Todd McCarthy said that Negga's work in the film was a breakthrough performance that would put the Irish actress "decisively on the map".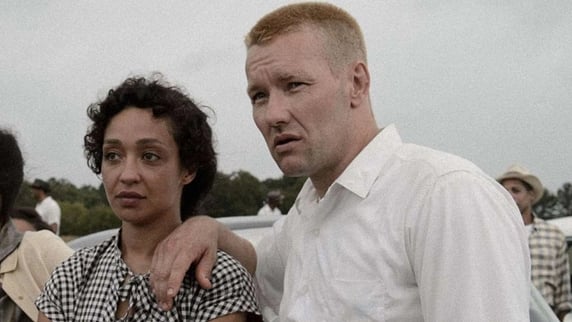 Ruth Negga and Joel Edgerton in Loving