---
Liz Nugent's debut novel Unravelling Oliver won the Irish Book Awards Crime Novel of the Year in 2014 and was also the biggest-selling debut novel in this country that year, a fact that Liz is still bowled over by.
She's also that rare thing in Ireland, a full-time writer of fiction. When she wrote that first novel  – which famously dealt with an abusive husband – she was still working at RTÉ. She has written for radio and TV drama, including Fair City. In Lying in Wait, her newly-arrived, second crime novel, the main event as it were, occurs on page one of this gripping 300-page tale.
A respected South Dublin judge who has had serious financial problems due to his thieving accountant murders a prostitute with the help of his wife. There are surely echoes of the Scottish Play, as the wife is the Lady Macbeth-like figure who keeps calm, while the judge begins to fall apart. At stake is the family reputation, as a catastrophic family scandal would tarnish the prospects of their son and heir. A conspiracy of silence is seriously challenged, as the gardaí visit the cherished and secluded family pile to make their dogged enquiries.
"It was almost a shock that having written one book that I would then have to write another one. I didn't think when I was writing the first book that this was going to be a career, but I was really pleased that it did so well that I was asked to write another one", said Nugent.
There had been nothing in the can, in other words? "No, but Marian Keyes says you have to go back to the well, you have to allow the well run dry and then you have to go back to the well to replenish the ideas. But you have to get a time between books to do that."
Working with such dark materials is her modus operandi now, the author readily recognises. "I was always interested in sinister characters in novels and TV. So that's where the inspiration came from." Fictional works that have been important to her include John Banville's The Book of Evidence, Engleby by Sebastian Faulks, Any Human Heart by William Boyd, anything by Daphne de Maurier.
"All of those dark, unsettled characters I find really interesting." As for TV, she cites Walter White in Breaking Bad as the perfect exemplar of character development. "He starts out as a boring, put-upon teacher and ends up as a drug kingpin, and I thought that transition was really fascinating."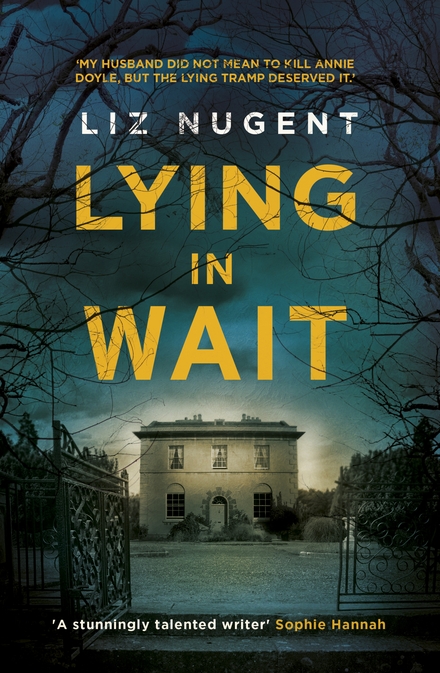 Lying in Wait is set in the year 1980, so there is a liberal sprinkling of period detail. Rumpole of the Bailey is on the telly, and Gloria Gaynor's I will Survive and Rod Stewart are playing on the radio (Rod arguably past his prime by then, but let's not nit-pick.)
She says she didn't feel pressure to make the book up-to-the-minute modern. "With Unravelling Oliver and with this book I've gone back into the past. For somebody who spends a lot of time on social media, I know it's very absorbing but at the same time I don't think it makes for great stories, unless you are writing like Louise O'Neill for example in Asking For It, where social media plays such a huge part in the story."
"But the characters I write I just don't think they would get to grips with that, because they're older and of a certain generation and of a certain class, I don't think they would be engaged as much. There are some people who do it (social media) really well, but it's not for me."
Ultimately, Liz Nugent hopes that her readers will find Lying in Wait just as appealing as Unravelling Oliver. "I hope they find it as readable -  the people who have read it so far, seem to have read it very quickly. They've read it in one or two goes, so hopefully the new one will work the same way."
Lying in Wait is published in Penguin Trade paperback