Fangirl Margot Robbie has said that she couldn't contain her excitement when Hozier signed on to write the theme song for her new movie The Legend of Tarzan and has gushed that the Wicklow man is "the nicest guy in the whole world".
Hozier penned the song Better Love for the movie and it plays as the end credits roll. The Legend of Tarzan was shot in 2014, the same year that Hozier's debut self-titled album was released.
When TEN spoke to Robbie in London, she revealed that she is a massive fan of his and that his involvement in the project was "the most exciting thing in the world".
"When I heard Hozier was doing the song for this I could have died. I am a massive fan of him," Robbie told RTÉ TEN.
"Funnily enough, it was when we were shooting Tarzan in 2014 that I was absolutely obsessed with his album for the first time and we went to his gig while we were shooting and it's just so weird that he's now doing the song for it. It's the most exciting thing in the world."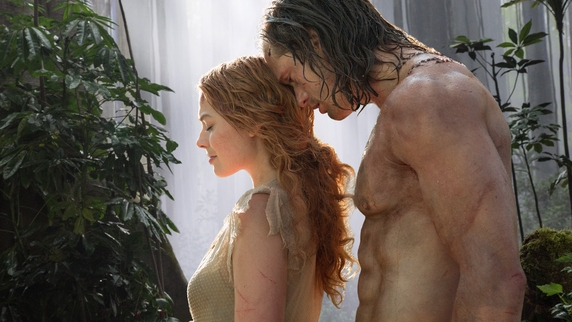 Robbie and Skarsgard as Jane and Tarzan
Robbie's co-star Alexander Skarsgard added that the 26-year-old actress used to always play Hozier's music in her trailer on set.
"That was before he really like, took off," Skarsgard told RTÉ TEN. "That was the first time I heard of him, through Margot on set. She was blasting his music in her trailer and running around on set.
"And I would live vicariously through Margot because I didn't have a social life for nine months because I was on a very strict diet with training you know, so every Monday I would ask 'What was your weekend like?' and one Monday she was like 'We went to Hozier!'"
"He's the nicest guy in the whole world. I love him," Robbie added.
It wasn't just the film's stars that are enamoured with the musician. David Yates says that when he heard Hozier's first demo of Better Love, he felt like the essence of the story was captured to such perfection that he almost didn't need to release the movie.
"I didn't say it to him but I almost thought when I heard it that 'Well, we've spent two years making that film, we could've just banged that song out!' It's got all the emotional stuff in it, it's lovely, he did a great job," Yates told TEN.
Check out our full interviews with Margot Robbie, Alexander Skarsgard, Hozier, Christoph Waltz and David Yates by clicking the video links. You can read our review of The Legend of Tarzan, which is out now, here.