RB Kelly endured over 20 rejection letters while she constantly rewrote her debut Sci-Fi novel, Edge of Heaven. The finished project finally got published in June. Paddy Kehoe spoke to the Belfast writer about 23 years of grim determination.
When we spoke, RB - better known as Rachael - was on her honeymoon in Sardinia which she assured me was beautiful. "I'd recommend it wholeheartedly, absolutely roasting over here." We spoke on Tuesday, they photos were being taken the previous week at this very time, following her marriage to Jesse Durkan at Belfast City Hall. Jesse plays French Horn with the Ulster Orchestra.
Interesting sense of timing, wedding and honeymoon and the first book in the same few weeks, I suggest. She talks of `an interesting' but also `really exciting' month.' "The decision to get married was one that we only took really a few months ago. It was a very frantic two weeks but the good part was that there was a two-and-a-half week's holiday at the end of what was probably the busiest two weeks of my life. We've been really relaxing since then."
Creo, the the 21st century city of a thousand languages in which the story unfolds, is depicted in exhaustive detail in Kelly's vividly literate narrative. She persisted for 23 years with her debut novel, through constant rewrites and rejection letters, while her non- Sci-Fi short stories were published in various publications. "I love words, I love messing around with words and finding new ways of expressing things," she says. "You can explore worlds of the imagination in Science Fiction, I find it incredibly good fun to write, to construct an entire world, where you build your universe from scratch. "
Built on two levels, the city of Creo towers over the dust bowl of western France. Walls are built of alumina-concrete within which tiny sensors flip the Circadian routines from day to night. Seven-storey, 18-lane gates lead to the lower city, Creo Basse, where the sins of the past come to haunt in the shape of the great plague, the cataclysmic event at the heart of the tale. Rachael readily admits that while she has created a fictional city in fine detail, Belfast can be gleaned here and there between its alumina-concrete walls, not least its Irish rain, described at one point `as a vertical wall of water.' The Troubles and Belfast as divided city influenced her plot to some extent, she readily admits.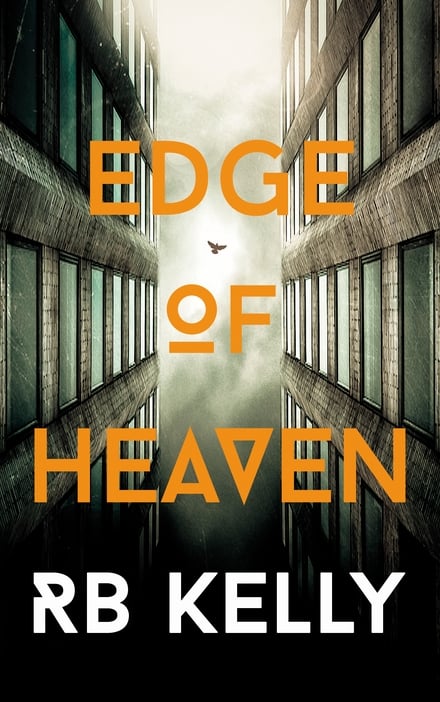 "Creo, as its residents would cheerfully agree, was a shitty place to live,'' we read on page 14 of Kelly's 432-page novel. Kelly's protagonist, Danae Grant has a secret which should it become public could cost her her life. On the night she meets a man called Boston Turrow, marshal law is declared and both their lives are changed utterly.
Rachael Kelly began writing the first draft of Edge of Heaven in 1995, when she was fifteen. Reared an atheist, her father John Kelly is a geologist, her mother is English. She attended the multi-cultural Methodist College in Belfast and grew up with a fascination for multi-media and Sci-Fi. When she has seen something on TV or in film that intrigues her, she tends to read around the subject. The Star Trek original Shatner version exerted as much influence on her apprenticeship as much as literary Science Fiction. She believes that the iconic TV series explored "huge themes of identity and self and humanity from a perspective of 'tech' that could theoretically eventually be possible."
The 37-year-old author is `incredibly proud' of her parents' decision to rear her as an atheist, which she sees as a bold decision to make in child-rearing towards the end of the seventies and the early eighties.``That was very brave of them, I really appreciate being raised without being affiliated to one side or the other. So I can look at it from the outside and make my own decisions about things." On the other hand, her parents allowed her do what her friends were doing, and if that involved attending a church-run summer school, so be it.
In the meantime, a screen-play has been optioned by a local production company in Belfast and she has started a sequel to Edge of Heaven. She says she will always be writing no matter what happens, and to be a full-time writer would be her 'absolute dream.' "I would keep writing if nobody ever read a word I wrote I would keep writing, it's something I can't not do."
Edge of Heaven is published in paperback by Liberties Press.