Judi Dench has proven that you are never too old to seize the day. The actress celebrated her 81st birthday in true style - by getting her first tattoo with the words 'carpe diem' on her right wrist.
Dench was given the present of the inking by her daughter, Finty Williams.
"That's my motto: Seize the day," Dench told Surrey Life magazine. "Finty gave it to me for my 81st birthday – she's wonderful with surprises.
However the veteran actress admitted that the phrase had caused some confusion among her co-actors while performing in Shakesperare's The Winter's Tale.
"Mind you, the company of A Winter's Tale, which I was doing at the time, used to say that it said 'fish of the day'."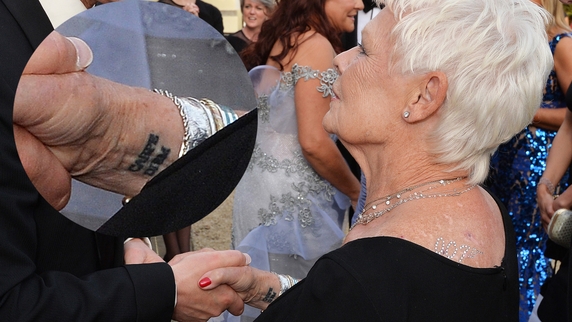 The former Bond actor previously toyed with the idea of getting a tattoo of an Indian symbol for life and love.
"There's an Indian symbol that I like which supposedly represents life and love and everything," she told Good Housekeeping.
"One of the cameramen who worked on The Second Best Exotic Marigold Hotel told me what it meant, but I'm a bit nervous in case I'm being set up – it might be unbelievably rude."