Scotty Moore, who was a member of Elvis Presley's original band, has died in Nashville aged 84 after months of bad health.
Moore helped Presley pioneer the music that developed into rock 'n' roll, and went on to inspire generations of guitarists including Keith Richards, George Harrison, and, more recently, Richard Hawley.
Richards once said of Moore, "When I heard Heartbreak Hotel, I knew what I wanted to do in life. It was as plain as day. All I wanted to do in the world was to be able to play and sound like that. Everyone else wanted to be Elvis, I wanted to be Scotty."
Moore was the last surviving member of Elvis's original band, which included Presley, bassist Bill Black and producer Sam Phillips. As part of The Blue Moon Boys, Moore backed Presley on many of his epochal early hits such as Heartbreak Hotel, Blue Suede Shoes and Jailhouse Rock.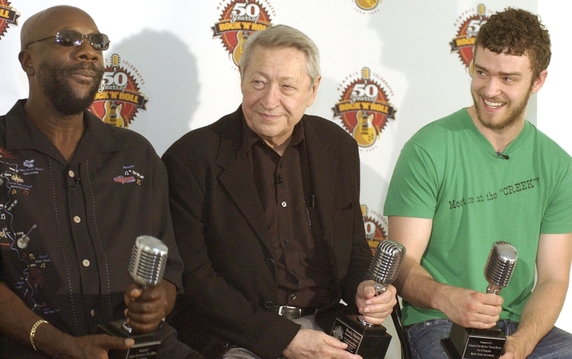 Isaac Hayes, Scotty Moore and Justin Timberlake at the 50th Anniversary of Rock 'N' Roll Reunion Celebration on July 5, 2004 at Sun Studio in Memphis, Tennessee
He was born in Tennessee in 1931 and began playing guitar at the age of eight. He spent some time in the US Navy and entered the music business in 1954 while living and working in Memphis. He formed the country band The Starlite Wranglers with Bill Black.
Later that same year, Sam Phillips of Sun Records introduced Moore to a young singer he was auditioning called Elvis Presley. They worked together for 14 years and Moore was also Presley's first manager.
Moore also worked with his friend Carl Perkins and went on to collaborate with the likes of Ringo Starr, Keith Richards, Jeff Beck and Ronnie Wood.
RIP ScottyMoore. I had the privilege of playing with Scotty in 1994 at the Elvis "Now or Never"… https://t.co/Q7xjMzlmt7

— Bryan Adams (@bryanadams) June 29, 2016
Musicians Bryan Adams, Billy Idol and Richard Hawley were among those paying tribute to Moore on Wednesday.
Not many guitarists in R&R were as original & as inventive as Scotty Moore RIP https://t.co/ORkO1UO6or

— Billy Idol (@BillyIdol) June 29, 2016
Sheffield singer Richard Hawley posted on Instagram: "Thank you, thank you, thank you Scotty for shaping my universe. What a beautiful noise you made. I hope the train isn't a mystery anymore. Bless you dearest and greatest of guitar players."