Hipsterverse, the Vancouver-based comedy series which was co-created by three Irish writers, has been bought by new TV network TAG in the US. 
Dylan Townsend, David Laurence Quinn and Fergal Byrne created Hipsterverse with Canadian actor Michael Coleman. Under the licensing deal, the show is also available to over one million hotels worldwide via the Sonifi platform and is set to air on satellite provider Dish in the US from July 1.  
Described by Townsend as "a comedic take on the constant array of millennial First World Problems", Hipsterverse is set in a coffee shop where the put-upon owner (Once Upon a Time star Coleman) tries to deal with the elaborate orders, concerns and sensitivities of his younger clientele.  
"The original series we wrote for Ireland was heavily based on a bunch of people I knew on South William Street between 2012 to 2014," Townsend told TEN. "We pitched the series in Ireland but nobody bought the idea. When I brought it to Vancouver, I met a whole new bunch of people there and pulled on previous experiences from Ireland and on my travels which were then embellished with a touch of absurdity into what became the series."
Townsend, who starred in the RTÉ2 show Exiles: Vancouver about young Irish emigrants, has said that making the move from Ireland gave him the impetus to take Hipsterverse forward. "If I had not gone to Vancouver and then pushed the show in Los Angeles, it would still be some ideas on a piece of paper," he admitted.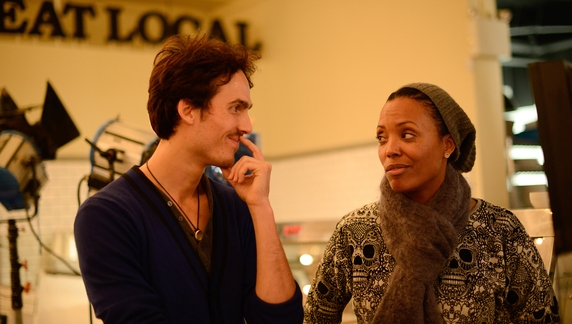 Dylan Townsend on set with Hipsterverse co-director Aisha Tyler
"When I began researching the project between from 2012 to 2014, South William Street was really hipster but in a vulgar way. Now South William Street is pretty classy and not really that hipster. Kind of like Hipster 2.0."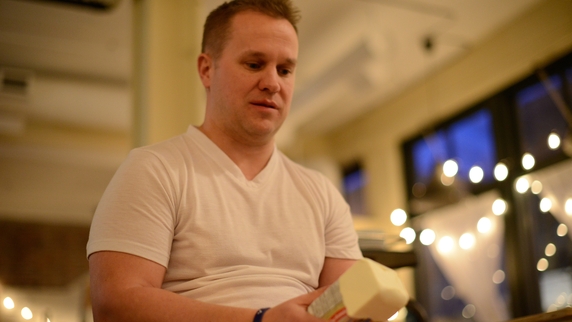 That very awkward moment when you resort to using butter to try to fit into the skinny jeans...
However, while more than happy to poke fun at his characters, Townsend also concedes that he is "definitely part hipster" himself.
"To observe the world I have to involve myself and by all accounts I am 'holistic hipster' - the role that I play in episode four of the series," he laughed. "I am really into trends and seeing what's new: my current hipster pleasures include Kombucha, Kefir, cocoa ceremonies, Kundalini yoga, and obnoxious coffee orders."
Along with Hipsters, Howth native Townsend has written and produced a new short starring The Fall's Bronagh Waugh called Heart Overhead and told TEN he is now looking to the big screen for his next project.
"I have written an Irish road trip comedy feature film called The Depth of Craic that I really want to get made as soon as possible. It's about four lads carrying their best friend's ashes from Dublin to Dún Aonghasa while they perform a series of his dying wishes. I have been road tripping my whole life and need to get this one off the ground."