Samuel L Jackson was just one of the people praising Grey's Anatomy star Jesse Williams for his rousing speech about racial injustice after he picked up the humanitarian award at the Black Entertainment Television (BET) Awards.
Jackson, who himself received the lifetime achievement award at the show on Sunday night in Los Angeles, described Williams - who plays Dr. Jackson Avery in the long-running medical drama - as "the closest thing I've heard to a 1960s activist".
Williams launched into a rousing speech after he picked up the BET humanitarian award. "A system built to impoverish, divide and destroy us cannot stand if we do," he said to huge applause from the audience.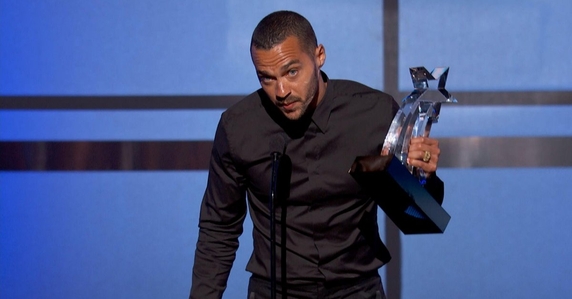 The 34-year-old received a standing ovation after he called for an end to police brutality against black people and white appropriation of black culture.
We know that police somehow manage to de-escalate, disarm and not kill white people every day. We're done watching and waiting while this invention called whiteness uses and abuses us, burying black people out of sight and out of mind while extracting our culture, our dollars, our entertainment like oil, black gold, ghettoising and demeaning our creations then stealing them; gentrifying our genius and trying us on like costumes before discarding our bodies.
Also at the BET awards, artists including Stevie Wonder and Jennifer Hudson paid tribute Prince, who died of accidental overdose in April.
Muhammad Ali was also remembered at the show in the Microsoft Theatre, with actor Jamie Foxx and Ali's daughter Laila paying tribute to the three-time world heavyweight boxing champion.
Beyonce made a surprise appearance at the awards, performing Freedom featuring Kendrick Lamar, before leaving the ceremony to travel to a concert in London.
In case you missed this part of @Beyonce's historic #BETAwards performance, featuring @kendricklamar. 🐝https://t.co/mFQEHG0KFa

— Racked (@Racked) June 27, 2016