Matt LeBlanc praised "beautiful" Kerry after he completed filming scenes for the current series of Top Gear in the county, and now viewers have taken to social media in their droves to echo the same sentiments.
The beauty of Co. Kerry and the Wild Atlantic Way was showcased on last night's episode of the car show and the stunning scenery went down a treat with viewers on social media.
The long-awaited Ireland special aired with hosts Chris Evans and Matt LeBlanc heading to Dingle to see whether the new Rolls-Royce Dawn could out-class its ancestor, a 1976 Corniche.
An apt description of the beautiful Kerry scenery on tonight's #TopGear 'Sometimes paradise is just a ferry away' #Dingle #WildAtlanticWay

— Eva Ní Shúilleabháin (@Evanis) June 26, 2016
#TopGear photography of Kerry superb. Kudos @wildatlanticway and @discoverirl who must have had some part in bringing them. @poloconghaile

— Iomhar Daly (@IomJD) June 26, 2016
What two amazing cars @BBC_TopGear #TopGear driving around the amazing roads and views of Kerry country side ???????????? pic.twitter.com/WpThVBkP2a

— Ted Robinson (@tedrobinson78) June 26, 2016
And This Is Why Kerry Is Known As The Kingdom #TopGear @Matt_LeBlanc How You Doing? @ourkerry @wildatlanticway @PaulineScanlonX

— The Taelane Store (@taelanestore) June 26, 2016
"Paradise"... we'll take that #TopGear #Kerry

— Aisling Hussey (@AislingHussey) June 26, 2016
How gorgeous is the kingdom #TopGear #Kerry pic.twitter.com/S57X2eTPxq

— Belynda (@BelyndaRoche) June 26, 2016
Don't normally watch #TopGear but it's great to see the gorgeous Kerry coast and Dingle looking so fabulous #WildAtlanticWay

— The Purple Boots (@thepurpleboots) June 26, 2016
They were just in Kenmare...Dingle shortly...Kerry is looking fabulous on #TopGear tonight..

— Eva Ní Shúilleabháin (@Evanis) June 26, 2016
Kerry, you're looking fierce well #TopGear

— Neil Delamere (@neildelamere) June 26, 2016
Speaking to RTÉ after filming the Kerry segment in April, LeBlanc said: "It was nice, beautiful roads to drive that car on, the people were lovely, I had a really nice time."
Off to Dingle for some gaelic footy. What a day. pic.twitter.com/PZWirF9Jrf

— Chris Evans (@achrisevans) April 16, 2016
"At the end of the day when we were all done and back at the hotel I had my first pint of Guinness... It was delicious, delicious," he added.
LeBlanc's co-host Evans revealed their reasons for choosing to film in Ireland. "We ended up here because it's over the water, we had to come and film in Ireland," he said. "We had to have the Rolls Royce, we had to have one of the most beautiful backdrops in the world, and we knew the weather was going to be like this (clear blue skies), because it always is isn't it."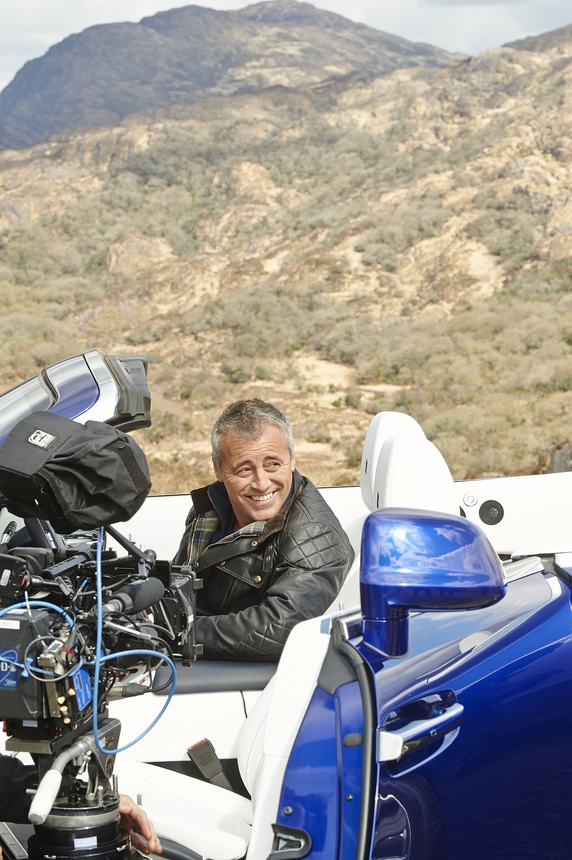 How you doin'? LeBlanc takes in the Ring of Kerry
On his travels around Kerry, LeBlanc took in the sights and met fans - he even managed to gatecrash a hen party. Sarah Jayne Murphy was celebrating her hen in Kenmare when LeBlanc drove up behind her and posed for a picture.
One of the hens, Lisa Marie Keane, posted the snap to Twitter, writing: "Thanks for making our hen's day!!! #kenmare #topgear"
@Matt_LeBlanc thanks for making our hens day!!! #kenmare #topgear pic.twitter.com/V7ddG9sWy6

— Lisa Marie Keane (@lisamarie_smith) April 15, 2016
The actor happily posed for a quick photo with another fan in The Killarney Oaks and signed an autograph on a napkin.
When LeBlanc and the Top Gear crew rolled into Kerry, fans seized the opportunity to snag a few selfies with the star, including our very own Kathryn Thomas who was in Kenmare doing a spot of shopping.
In doing the bita shoppin' in Kenmare for @pureresults_ie and look who rolls into town!!! #topgear #mattleblanc ?????? pic.twitter.com/MfneQpkQKB

— Kathryn Thomas (@gokathrynthomas) April 15, 2016
Pictures of LeBlanc in a royal blue Rolls Royce also did the rounds and locals turning out in their droves to catch a glimpse of the man at work.
Buying the friendship of @Matt_LeBlanc Joey style....with pizza. Thanks for supplying the goods @beIIavita x pic.twitter.com/B0WaqJIG49

— Kitty O'Sullivan (@kitsosull) April 15, 2016
Best road I've ever driven on. Had no idea it existed. A great great day. pic.twitter.com/HfCVwMWtLK

— Chris Evans (@achrisevans) April 16, 2016
Local politicians have wasted no time in praising the show, with hopes that the exposure from the episode will give a boost to tourism in the region. Kerry Fine Gael TD Brendan Griffin was one of the first to give the Top Gear a thumbs up for featuring the splendour of the South-West.
"The BBC has done Kerry a great service. The hugely positive exposure and marketing that the county received last night would have been very expensive to buy and will have a large impact. It's my hope that this will lead to increased bookings from the UK and beyond..."
The second series of Top Gear is set to begin filming in September.