Adele made her debut on Glastonbury's Pyramid stage on Saturday night with a combination of rambling, potty-mouthed musings, false starts and emotional renditions of her biggest hits.
The Londoner last played the festival in 2007 when she had yet to release a record but, dressed in a floor-length, embellished black gown, she commanded the Pyramid stage and audience despite some fluffs over lyrics and difficulties with her voice.
Hello rang out across Glastonbury as Adele made her debut on the Pyramid Stage. Taking advantage of the location, she switched the words of her smash hit to, "I'm at Glastonbury dreaming about who I used to be", to screams from the crowd.
Send My Love, from her latest album 25, was dedicated to those who had survived "scabby people" who tried to control their life, referencing the ex-boyfriend who inspired the track.
Adele - Someone Like You at Glastonbury 2016 - Unbelievable 😭😭😭 #Glasto2016https://t.co/BeCiBgKRy3

— Beany (@Beanyman62) June 25, 2016
"There was this one who wanted to come into my personal sphere and invade my space and I was like, nah, bro ... you live with your mother, you can't keep up with me," she said.
Adele had to restart her song River Lea because she was out of breath. She explained to laughter from the audience, "It's all that dancing, I'm not f****** used to it. I'd rather sing better for you. Also a chance to wipe my sweaty top lip."
While holding the hands of fans, Adele sang 'Someone Like You' along with the crowd. pic.twitter.com/LZ6086I2JX

— Adele Daily (@AdeleDailyInfo) June 26, 2016
Endearing herself even more to the crowd, she made another slip-up when she sang the wrong section, letting off her trademark throaty cackle in the middle of the solemn hit as well as a strong expletive.
Rolling In The Deep had the crowd on their feet as Adele led the dancing from onstage and then a sing-a-long as she threw the refrain out to festival goers.
Confetti burst out across the crowd as the song came to a triumphant end.
And that is what you call a headline performance. Thank you, @Adele. #Glastonbury pic.twitter.com/ryrgHDG8b1

— BBC Two (@BBCTwo) June 25, 2016
Adele plucked a teary-eyed woman called Maria from the crowd who had come all the way from São Paulo, Brazil with her boyfriend just to see the singer.
The star-stuck woman could barely speak or hold her phone long enough to take a selfie, making Adele step in.
The show was stopped abruptly when an audience member fell ill and a path had to made for security to enter the crowd.
"There's Michael Eavis, thanks for having me, Sir," Adele said in reference to the festival's organiser, tottering across the stage to see herself on all the screens and expressing awe at the size of the crowd.
"I watched Muse last night at home, had a Chinese, did some washing up. They were amazing, weren't they?"
A shout-out to everyone from her home of Tottenham in London began the song that launched her career, Hometown Glory.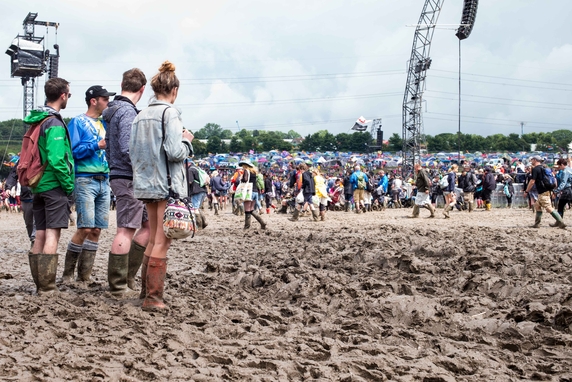 The scene at Glastonbury on Saturday 
Don't You Remember got a stripped-down outing. "This is my Alison Krauss moment, begging, wishing to be her," Adele told the crowd. 
She pulled a 10-year-old girl up on stage for a hug and selfie as Adele began chatting with the crowd.
"Oh my god, oh my god, oh my god, hi, this the best f***ing moment of my whole life," she said.
"Glastonbury means the world to me, I'm not just lying, I have always wanted to do this my whole life. I've been coming since I was your age," she said as the little girl took to stage and shared a selfie with her.
Taking a swipe at those who complained about her set, she hit back, "F*** them, they're not watching."
In her rambling musings, Adele also questioned the toilet habits of the crowd, bet them £50 she would fall down on stage and jokingly railed against BBC's warning about "strong language" in her set, despite airing after the 9.00pm watershed.
She laughed: "The BBC had to give me a warning for my potty-mouth. Did Muse get that?
"I thought I would be coming on to a sodden hay bale, you've made my life," she told the crowd, before singing Water Under The Bridge and her James Bond track Skyfall.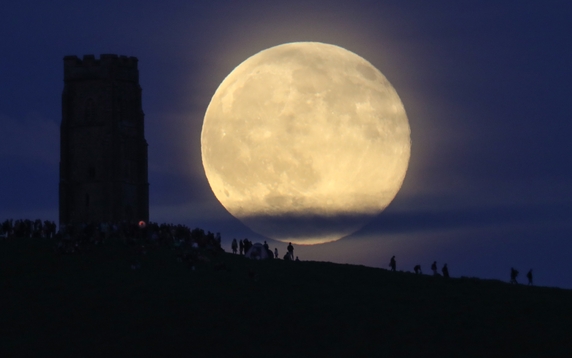 The moon rises at Glastonbury Tor
Nearly every member of the crowd sang in unison as she launched into the chorus and flares illuminated the sky.
"You're f***** amazing," she hollered at the crowd, before running up and down the stage to wave at her fans.
She looked in near tears as she clutched her chest at the end of the track.
"This is mad. I'm going straight into another one, my darlings, I don't know what to say to you," said the overwhelmed singer, launching into Rumour Has It.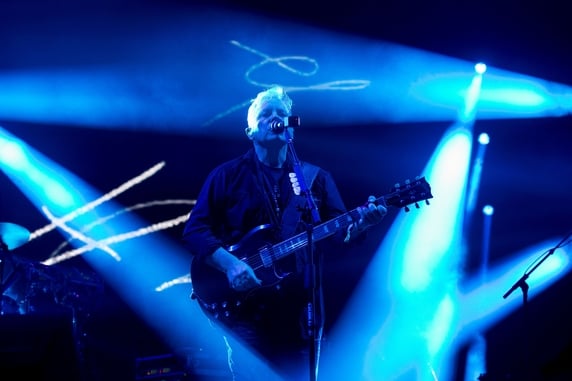 New Order at Glasto last night 
New Order, Madness, Tame Impala and James Blake also played on Saturday night at Glastonbury and the festival comes to a close on Sunday night with sets from headliners Coldplay, Jake Bugg and LCD Soundsystem.