Live wire broadcaster Hector Ó hEochagáin is back in with a new show on Today FM and a role as health ambassador for his hometown of Navan. He talks to Alan Corr about opening his own gym, being dropped by 2FM and getting Ireland on a health kick
He's already proved that he's gaga for the gee gees with his TG4 horse show, a hardened global traveller on TG4's Amú and now live wire DJ Hector is back on the airwaves again with a new show on Today FM.
Hector has been sitting (still for once) for Ian Dempsey on his breakfast show on for the past month and he starts his own Sunday show on the same station in August. "I'm just doing one show on Sundays and it leaves me free to do my other projects," he tells TEN. "But to be filling in for Ian Dempsey at the moment is brilliant, it's great, it's the biggest breakfast show in the country so I'm proud of that."
HÓh had been hosting his own breakfast show on 2FM but left abruptly in January 2014. At the time he said he would "never work for 2FM again" but these days, the professional Navan man is pretty pragmatic about the whole thing. "2FM let me go, they stopped my show. I don't know why they stopped my show.
"There's a whole new direction in 2FM so that's the way they went and obviously they didn't think I fitted the station and that was it."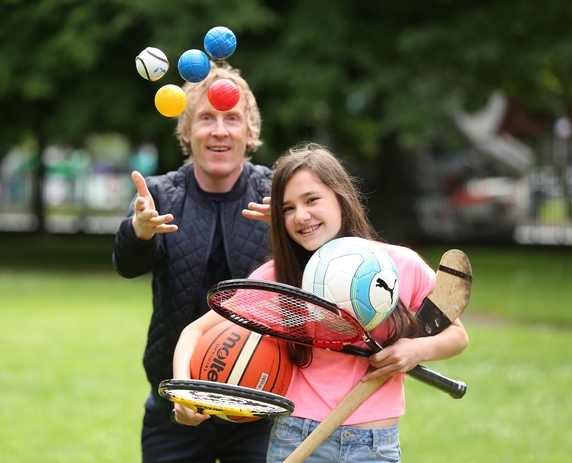 Hector has a lot of balls in the air
The 46 year old is already known as a keen champion of the Irish language but we're about to see another side to Hector - as health ambassador for his hometown of Navan.
The palindromic town of 30,000 people nestling prettily on the plains of Leinster has been named Ireland's Healthy Town 2016 and obviously local boy Hector reckons it's a pretty good choice for the honour.
"This is a project that has been going for Kilkenny and Portlaoise so when they rang me to ask would I do something for Navan I said yes. I'm very proud of my parish, I'm very proud of where I came from so if I can get the town a little big healthier than it is. I think it's a good thing." he says.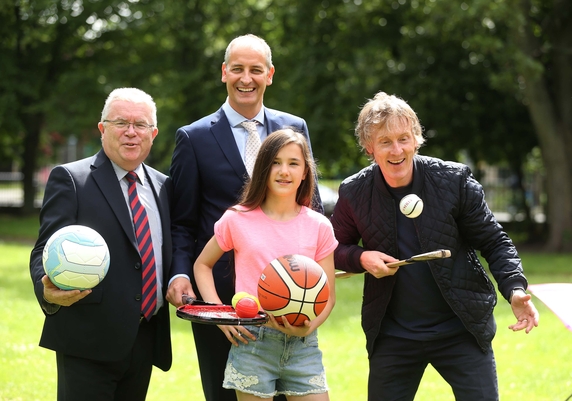 Hector pictured with (L-R) Kevin Stewart, Director of Services, Meath County Council, Paul Reid, MD, Pfizer, and Rosie O'Neill
His own health has always been a priority. "I'm the same 32/32 I was when I used to walk into the nightclubs of Navan - 32 waist, 32 leg." he says. Hyperactive even at the most relaxed, HÓh is a keen sports fan and he even opened his own gym in Galway last year called Body Works. Can you imagine Hector in a gym? Not just any gym but his very own gym? Just watching Hector in action would make you feel as if you're doing a workout.
So Healthy Town 2016 is somewhat of a passion project. "Well after opening the gym, I'd call it a bloody financial project!" he laughs. "I'd be fairly healthy myself. Working out in the gym has not consumed me over the past couple of years but I have gone from playing sport like squash to going to a gym three or four times a week."
As a witness to fitness in Body Works, Hector thinks Irish people get a bit of a raw deal when it comes to matters of health. "You read all these headlines saying we're the most overweight nation in Europe but I think there are a lot of people in Ireland who are fit and healthy a lot of people thinking about diet, children are doing more sport than ever before." he says.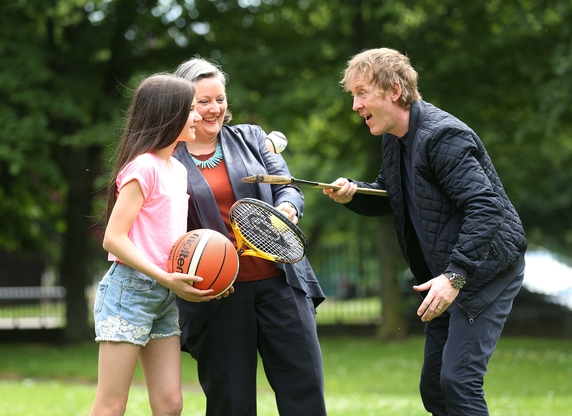 Hector pictured with Rosie O'Neill Marcella Corcoran Kennedy, Minister of State for Health Promotion
And unlike certain other public figures lampooned on the show, he loved David McSavage's Haroo! Haroo! pisstake of him on The Savage Eye. "Brilliant! I think all that's brilliant. You have to laugh at all of that - he is an absolutely brilliant, brilliant mimic. Mario Rosenstock doing the Hector stuff is brilliant too."
HÓh is also returning to TG4 in October for a new travel show after the very well-received Amú. It's called Central and it sees the fluent Spanish speaker transverse Central America, hacking his way through the jungles of Costa Rica and Panama and visiting Honduras and Nicaragua.
It will mark TG4's twentieth anniversary in October. "It's a very interesting, volatile part of the world." he says. "I've travelled the world with TG4 so I'm very proud of that because TG4 is where I started."
The Pfizer/Irish Times Healthy Town 2016 is a series of free events, seminars and health checks taking place during September and October 2016.
Alan Corr @corralan