Nicole Kidman is in talks to star opposite Colin Farrell in The Killing of a Sacred Deer, the psychological thriller from Irish company Element Pictures which reunites the Dublin actor with The Lobster director Yorgos Lanthimos.
Element Pictures, which was behind this year's Oscar-winning Room and The Lobster, says that The Killing of a Sacred Deer tells the story of "a young man that needs to take revenge, a doctor that has to make a decision, and his family that must survive". Farrell plays a surgeon who takes a teenager into his home - a good deed that does not go unpunished. Kidman is in talks about the role of Farrell's wife in the film.
US film trade publication the Hollywood Reporter, which first reported that Kidman was in talks to join the project, says that filming is expected to begin in the US in August.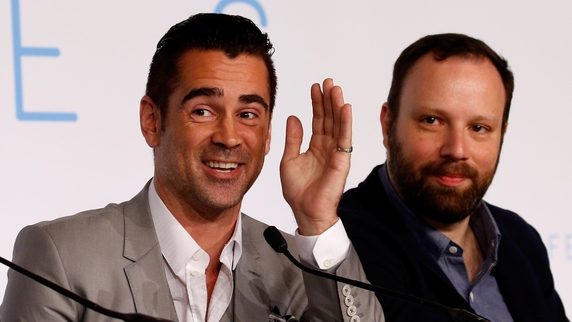 Colin Farrell and The Lobster director Yorgos Lanthimos at the film's premiere at the Cannes Film Festival last year
Element Pictures' Ed Guiney, who was an Oscar nominee earlier this year for his work as producer on Room and also produced The Lobster, has described director Lanthimos and writing partner Efthymis Filippou's script for The Killing of a Sacred Deer as "stunningly original".
The Lobster won the Jury Prize at last year's Cannes Film Festival and has taken over $5m in the US since its release last month. The film, which was made in Kerry and Dublin in 2014, is set in the near future, where single people's lives depend on finding a partner. It was recently included in TIME magazine's Top Ten of 2016 list alongside another Irish film, the musical romance Sing Street.
Farrell will next be seen on cinema screens in the JK Rowling adaptation Fantastic Beasts and Where to Find Them. The Harry Potter spin-off, which stars Eddie Redmayne as wizard Newt Scamander and Farrell as his pursuer, Percival Graves, is released in cinemas on November 18.
The Dublin actor has also narrated the upcoming documentary It's Not Yet Dark which tells the story of Irish writer-director Simon Fitzmaurice's life with motor neuron disease and is based on his acclaimed memoir of the same name.
Kidman's upcoming projects include the literary biopic Genius and the second season of New Zealand-set thriller Top of the Lake.