Domhnall Gleeson will reunite with his About Time co-star Margot Robbie in a new movie about Winnie The Pooh author, AA Milne.
The Australian actress was in talks earlier this year in connection with the project and now she has been confirmed to play Milne's wife Daphne in Goodbye Christopher Robin, which focuses on the sometimes difficult relationship between Milne and his son Robin, who was the inspiration for the character of Christopher Robin.
Robin's teddy bear collection provided the names for honey-mad bear Winnie and other characters such as Tigger, Piglet and Eyeore.
Gleeson recently played high-profile roles in The Revenant and Star Wars: The Force Awakens, while Robbie, who stars in the upcoming Suicide Squad, had her breakthrough role in The Wolf Of Wall Street.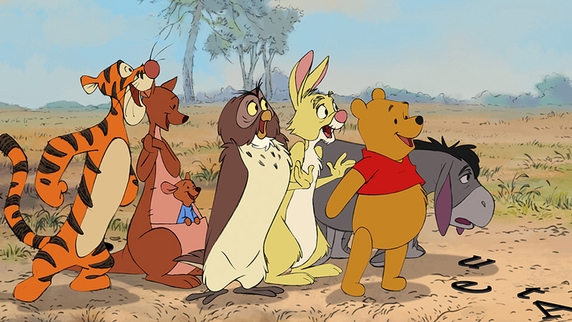 Winnie and chums from the Disney adaptation of AA Milne's books
Goodbye Christopher Robin will show Christopher, his nanny, Olive, and his parents as they are swept up in the international success of the Winnie The Pooh books in the aftermath of the First World War.
The film is written by 24 Hour Party People screenwriter Frank Cottrell Boyce and Simon Vaughan, who recently produced the BBC's adaptation of War and Peace and who worked on the TV movie A Bear Called Winnie in 2004.
Director Simon Curtis said: "I am delighted to be collaborating with Frank Cottrell Boyce to tell the remarkable and poignant story of the family behind the creation of Winnie the Pooh.
"We are assembling a wonderful cast, headed by two actors I am longing to work with - Domhnall Gleeson and Margot Robbie."