Adele broke down in tears in Antwerp in Belgium after she dedicated her entire show to the victims of the Orlando tragedy in which fifty people lost their lives in a mass shooting early on Sunday morning. Many other celebs have also expressed their shock
The attack took place a day after The Voice and YouTube star Christina Grimmie was shot dead by another assailant after performing a concert in Orlando, about four miles away from the nightclub. Police say the two shootings were not connected.
Adele told the crowd "I'd like to start tonight by dedicating this entire show to everybody in Orlando, and at Pulse nightclub last night."
She then started to choke up after telling fans "The LGBTQI community... they're like my soulmates, since I was really young, so I'm really moved by it."
Celebrities have offered their condolences and expressed their shock to the LGBT community after the attack, which is the worst mass shooting in US history. 
Many stars are also calling for greater gun control in the wake of the shooting, which also left more than 50 people injured.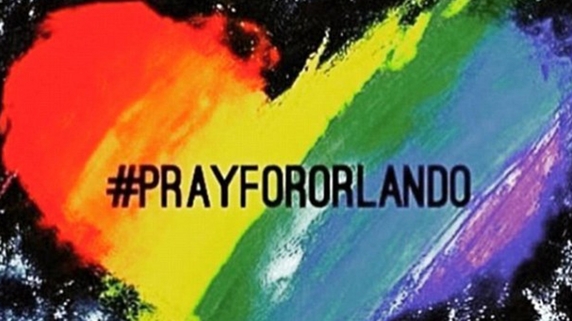 Queen and Adam Lambert also paid tribute to the Orlando shooting victims during an emotional Isle of Wight Festival headline show on Sunday.
Original members of Queen, Brian May and Roger Taylor, were accompanied by the American Idol star Lambert for the two-hour set. The band dedicated their song Who Wants To Live Forever to the victims of the Orlando shooting.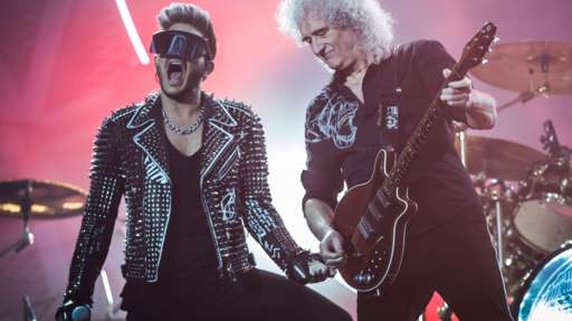 James Corden opened Sunday's Tony Awards show with a message to those affected by the shooting.
"Our hearts go out to all of those affected by this atrocity," he said. "All we can say is you're not on your own right now. Your tragedy is our tragedy."
"Hate will never win. Together we have to make sure of that. Tonight's show stands as a symbol and a celebration of that principle" he added.
Here at home well known entertainer and gay rights campaigner, Panti Bliss, posted a strongly-worded message on her Facebook page and urged people to be defiant in the wake of the attacks.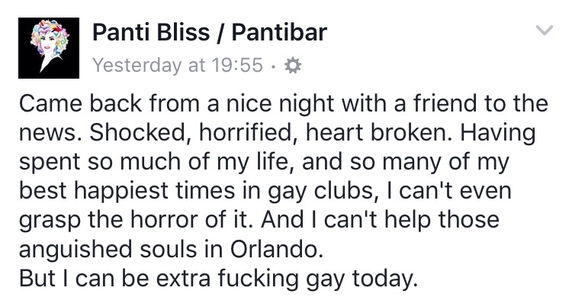 Many other entertainers including Lady GaGa, Roisín Murphy and Madonna, all of whom have a large gay fan base, took to social media to express their shock and sadness at the events in Florida at the weekend.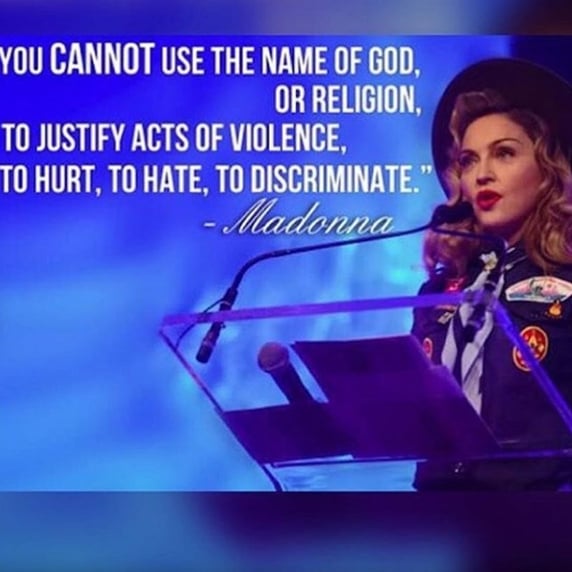 Dark fucking days for humanity

— Roisin Murphy (@roisinmurphy) June 13, 2016
Sending strength to our #Orlando victims & their families. Very angry, but you can't break what you didn't build. We will rise & persevere.

— Dwayne Johnson (@TheRock) June 12, 2016
My heart is broken this morning. So much hate in this world. So many beautiful innocent lives taken last night in Orlando. #PrayForOrlando

— Nick Jonas (@nickjonas) June 12, 2016
Madness. Hideous and cruel madness. To the survivors, and families of those slain, I'm so sorry. #StopGunViolence

— olivia wilde (@oliviawilde) June 12, 2016
Sobbing.

— Ellen DeGeneres (@TheEllenShow) June 12, 2016
Stand strong w/ ur pride, it belongs to u. Love is opposite of hate. My sincerest mourning 4 LGBTQ's suffering 2day pic.twitter.com/0n3A143GEg

— Lady Gaga (@ladygaga) June 12, 2016
What is wrong with the world 😞 so incredibly sad. Prayers to the victims and loved ones 🙏🏼 #Orlando

— Cheryl (@CherylOfficial) June 12, 2016
50 dead
53 wounded
lives ended
lives shattered
The full horror of this shooting is only starting to hit us all
I feel unconsolable sadness

— Boy George (@BoyGeorge) June 13, 2016
I'm heartbroken for the victims, for Orlando, for the LGBT community, for our country. When does it end?

— josh groban (@joshgroban) June 12, 2016
I'm heartbroken by this tragedy. Praying for Orlando and the suffering created by this senseless violence.

— Reese Witherspoon (@RWitherspoon) June 12, 2016
How how how how can one have so much hate ????? My heart...... is so broken. Praying for the families of the Orlando victims. I am so sorry.

— Ariana Grande (@ArianaGrande) June 12, 2016
Horrified by the mass shooting in Orlando. When will we do something to prevent these killing sprees?

— John Legend (@johnlegend) June 12, 2016
To our gay, lesbian, bisexual, & trans friends-- the world is mourning. #LOVENOTHA
Meanwhile there was controversy on Sky News after a newspaper columnist walked out during the station's nightly preview of newspaper front pages.
Owen Jones grew increasingly exasperated during the discussion following what he perceived as the lack of emphasis on the shooter's homophobic motives by the host and fellow panellist. 
Jones, who writes for The Guardian, said: "This was a deliberate attack on LGBT people in an LGBT venue. It was a homophobic terrorist attack. Do you not understand that?".