It was the showcase event that popularised modern rolling news and helped to mould modern celebrity culture. Back in 1994, American football legend and Hollywood star OJ Simpson was alleged to have stabbed his ex-wife Nicole Brown and her friend Ron Goldman to death, and it resulted in a trial that had the world in thrall.
Now, more than 20 years later, the writers behind The People Vs Larry Flynt are back with another courtroom drama, this time based on the book The Run of His Life by Jeffrey Toobin. Scott Alexander and Larry Karaszewski are also on the blower from Tinseltown.
The OJ Simpson trial had pretty much everything. A mixture of celebrity, sensation and sleaze, it played to a global gallery for 16 months before Simpson was finally acquitted.
"It's interesting," says Larry Karaszewski, who put the ten-part drama together with Scott Alexander. "20 years have gone by, and Scott and I both have children who are in their late teens and they only knew OJ Simpson as a guy in prison, as a guy who is kind of a fallen star. So one of the reasons we cast Cuba Gooding Jr [in the lead role] was to sort of establish the kind of personality that OJ Simpson was."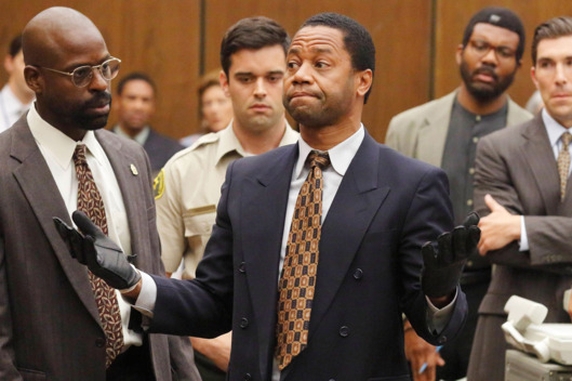 Cuba Gooding Jr stars as OJ Simpson
Over on this side of the Atlantic, Simpson's astonishing popularity in the USA as a sportsman barely registered, while his acting career would've made him a recognisable figure, but hardly famous. Once that infamous murder hunt began, all that changed.
"I mean, OJ Simpson, in the United States at least, was just one of the ultimate golden stars in the sense that he kind of conquered many mediums; he was a huge football star, and he managed to make the transition into the entertainment field," Karaszewski explains.
"He was a co-star in The Towering Inferno with Fred Astaire, and he was in Capricorn One, he made a bunch of Naked Gun movies. And then he also became a corporate pitchman for the Hertz Corporation, and so he was actually the face of this major corporation in the United States, and that was very rare for an African American.
"I think I'd say like every half-a-decade, every decade there's one of these kind of figures, whether it's in our country Michael Jordan or Mohammed Ali, who just kind of captured just the imagination of people just by sheer personality. Because OJ was never that great of an actor, but he was just this sweet-natured, good guy."
It's always the case that when someone famous with a squeaky-clean image is linked to something dark, people become fascinated. In this case, there were two dead bodies, a car chase, and an American icon in the dock.
As Karaszewski puts it: "Then when we found out that his wife was murdered and then all the fingers started pointing at him and then he ran for it and just happened to be the moment where 24-hour television was starting, having that chase captured on television just sort of made the entire country gather around their television sets and started watching this murder case as entertainment. I mean that's how the whole thing started in this country."
As the court case wore on, the various contributors became well-known personalities and celebrities. People such as defence lawyer Robert Kardashian (played here by former Friends star David Schwimmer), a close friend of Simpson, and whose daughters have become major players in today's celebrity world.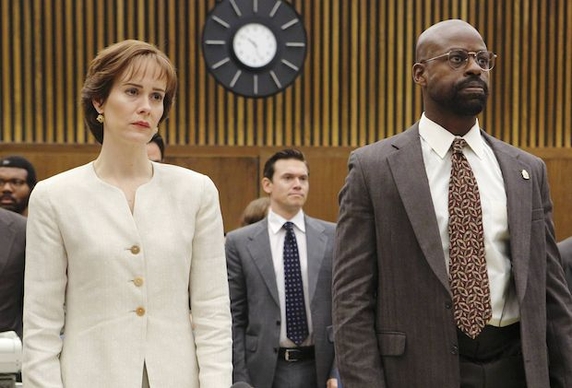 Sarah Paulson plays Marcia Clark
As well as attracting a fantastic cast - John Travolta, Cuba Gooding Jr, Sarah Paulson, to name just three - Karaszewski and Alexander also spent a lot of time making sure viewers get a pin-sharp perspective on the case. The attention to detail is such that Paulson used the exact same perfume her character Marcia Clark did when she was prosecutor in the trial.
Scott Alexander explained their meticulous approach: "We do just a ludicrous amount of research. I mean obviously our key source is Jeff Toobin's book around his life, which was our go-to bible.
"We also read everybody's books, every single person on the trial really, except for Lance, wrote one, two, or three books, all the lawyers wrote books, all of the jurors wrote books, all of the victims' families wrote books, everybody's got books, and so we sort of get everyone's perspective. Robert Kardashian did not write a book, but he was the key source for a book that Larry Schiller wrote about the trial, and so you get a lot of his perspective there.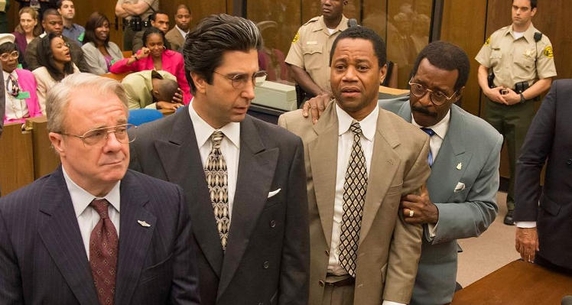 David Schwimmer plays Robert Kardashian
"Also, his ex-wife, Kris Jenner, wrote a book where she talked a lot about Robert. Robert was a bit of a source of mockery in Jeff's book in that he was sort of this kind of like this sad best friend buddy who liked to hang around with his famous pal."
The trial was also a starting-point for many of the pop culture staples that are taken for granted today. Back in 1995, being famous for being famous was an alien concept; nowadays, it's pretty much all that matters to most people. Reality TV is everywhere, but it didn't exist back then.
"Robert initially started as a more peripheral character of the show and then we started talking about the beginning of celebrity culture," says Alexander. "And how we were going to postulate the trial and invented reality television, in that people like Nicole Simpson and Faye Resnick became extraordinarily famous, at least here in the States, I mean extraordinarily famous for no reason whatsoever.
"I mean it was just bizarre, and we felt that you could draw a line from that to 20 years later and the Kardashian Empire, and so it sort of seemed natural to heighten Robert a bit."
The People Vs OJ Simpson: American Crime Story, 10.15pm, RTÉ One