Guns n' Roses front man Axl Rose has demanded the removal of unflattering images that were part of a "fat Axl" meme mocking his physical appearance.
The meme features shots of Rose juxtaposed with Guns N' Roses lyrics, including one that makes a pun of Sweet Child O' Mine with the tagline: "Sweet Pie O' Mine".
Another image changed a line from Knockin' On Heaven's Door to "Knock Knock Knockin' on McDonald's Door".
The Press Association reports that Rose, who has recently been fronting AC/DC, made the complaints through a UK-based web monitoring company.
Harvard University's Lumen Database, which collects and studies online content removal requests, lists at least 11 requests made on behalf of Rose citing copyright violations since May 31.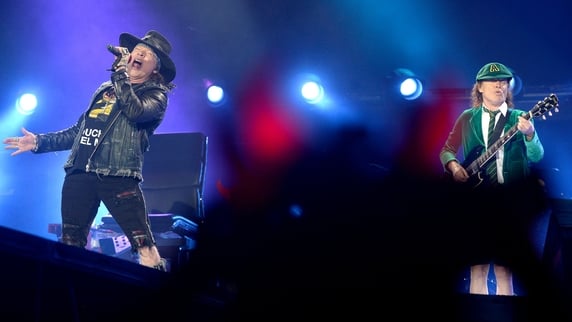 Rose has recently been performing with AC/DC
Earlier this year, Prison Break star Wentworth Miller shut down an internet meme with unflattering headlines about how he had gained weight, including "Fit to Flab" and "Hunk to Chunk".
Miller posted on Facebook that he had turned to eating because he suffers from depression and his stance on "fat shaming" was universally supported.