Ahead of its last ever episode tonight on RTÉ One, Julianna Margulies tells TEN's John Byrne how The Good Wife changed the TV landscape - especially for women.
Julianna Margulies has a constant reminder of her seven years on The Good Wife. In fact, she's sitting on it during our Transatlantic phone conversation, with her at home in New York while I'm here in RTÉ. She sounds in great form. And why not?
The acclaimed legal and political drama wrapped for the last time at the end of April, with the final episode broadcast in the USA in May. Irish fans can see that last-ever hour on Thursday (June 9) on RTÉ One. As is traditional, the cast were allowed keepsakes from the set before it got bulldozed.
So what did Julianna Margulies take home to remind her of time being Alicia Florrick?
"Well, I can answer you right now," she says. "I am sitting, as we speak, on Alicia's office desk chair. When Alicia redid her office in - I think it was last season, in the firm her office was - I spoke to the set designer. And I said, 'I just want it to be light.'
"You know, there was so much dark leather, male energy in most of the offices, except for Diane's. And I said, 'I think it should be light, and airy and homey, but professional'. So I have this beautiful, velvet covered, grey chair that I'm sitting on.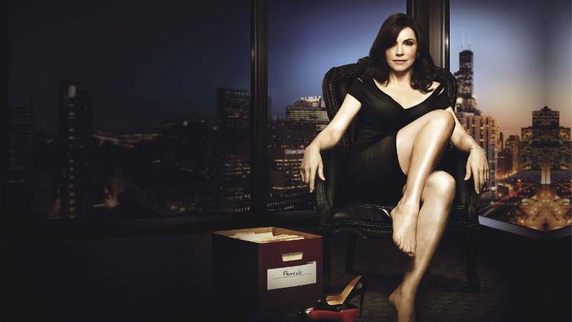 "I kept that. And I kept my 'daughter's' desk chair which is in my son's room now. They graciously gave that to me, which - and the only other thing I bought was Alicia's watch. I felt like I needed to have a part of her. And she changed her watch halfway through season seven. And I bought that watch. So those are the things I kept."
TV has changed so much during the seven year run of The Good Wife, particularly in the way it's being served and consumed, and how viewing patterns have become increasingly diverse.
But despite the increasing popularity of streaming services and cable networks, the legal drama about a dutiful spouse who returns to law after her politician husband is implicated in a scandal has made quite an impact on the industry.
"I think it's made network television executives not as afraid to put on challenging television, and to have female leads," says Margulies, who first came to prominence as Nurse Carol Hathaway alongside George Clooney on the massively-successful medical drama ER.
"I mean, you can see it with Scandal, with Kerry Washington. Cable, right away jumped on board with femal leads, with Claire Danes and Robin Wright and Julia Louis Dreyfus.
"You know, so I feel like it opened up a door to networks, really that women have a huge fan base. And that women like watching women, you know? And what's been amazing is, you know, I started out, I think, because of its title, I would get more reaction from females. But once we went onto this syndication cycle, men started binge-watching it.
"And nowadays it's equal territory, female and male," she adds. "There doesn't seem to be a gender gap when it comes to who watches the show at all. I think because the title said 'good wife', men didn't give it a chance. But even [controversial US radio and TV personality] Howard Stern now is a devoted fan. So when you can get Howard Stern interested, you know you've done pretty well."
And playing a character - especially one as nuanced as Alicia Florrick - for seven years has left an indelible mark on Margulies too. Although part of the show's appeal was the regular courtroom battles, what viewers also got with The Good Wife was a remarkable ensemble piece that was as much about personal and workplace relationships and life choices as it was about law and politics.
When asked what parts will remain uppermost in her mind from those seven seasons, she exhales sharply and says "Oh, boy!" before answering. "I guess, you know, it was a real learning curve to play a character who was constantly transforming into finding out who she was. And I think that will remain with me the most because I was learning as she was learning.
"And I think that's the luxury of doing a television show is that you get to grow with your character, as opposed to doing a film or a play, where you can have a middle, a beginning and an end. I sort of got on a train, and kept going. And I really - I discovered a lot about Alicia, and a lot about myself that will always remain dear to my heart."
Another thing that struck her was the positive effect The Good Wife was having on many of its female viewers. Pretty quickly, Alicia Florrick became something of a feminist icon. This came as quite a surprise to Margulies, who had a typical Thespian outlook at the beginning. The only thing you can take for granted in showbiz is failure. Well, not this time. Not a bit of it.
"Yes, when we started the show I didn't imagine anything except hoping it would stay on the air, honestly," she recalls. "I remember seeing the pilot and thinking: 'Well, I think it's smart television. But I'm not sure they're going to pick it up.'"
"So then once it started going, and women would stop me on the street because they identified with her, I was amazed. Mostly because I just always assumed A, no one knows who I am; and B, I was just so touched that I had somehow touched their lives. So I think feminine icon might be a little drastic. I've never thought of Alicia in that way."
But she was struck by how far and wide The Good Wife impacted on people.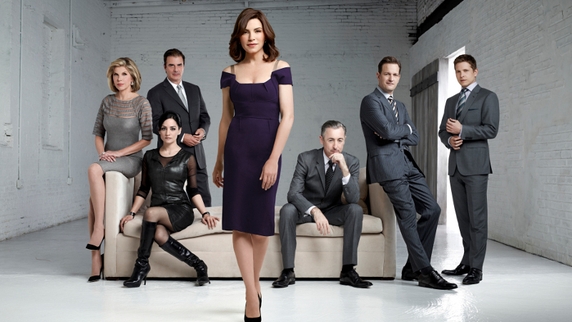 The good old days on The Good Wife
"I think I'm just starting to understand how big it was," she confesses. "I had no clue because I'd get up in the morning, and you know, do the best I could to get my kid off to school, and run to work, and run home, and try and learn lines and go back to work. So I wasn't aware of the impact until now. And I'm really touched that it helped people. I think it's a wonderful thing."
But now that this 'wonderful thing' is over, it's time for Julianna Margulies to move on with her life and career. From season three she began producing The Good Wife, and that's an avenue she's going to continue on. In fact, she's already taken those first, post-Good Wife steps.
That's the good news. The great news is that she's not about to turn her back on acting, although she does want to slow down, just a little, for personal reasons. Like Alicia in reverse.
"Well, I'm producing a mini-series about the female journalists in Vietnam, based on a true story, a book called War Torn," she explains. "And it's an incredible journey with these women who were on the front lines in Vietnam. And that it's 2016, and their stories haven't been told, yet, amazes me. So I'm doing that.
"And at the moment I'm reading scripts. They're coming in. And I'm flattered and honoured. But I'm looking for a series that is maybe on cable, that only does six to ten episodes a season because being the lead of a one-hour drama on network television, and putting out that amount of work every year leaves you very drained.
"And so I'm going to try and rest up, and just be a mom and a wife and producer for a minute. And take a breath, and read. And if the right role comes, I'll jump at it.
"But I can tell you this," she adds, and I can almost hear her grinning. "It won't have legal dialogue or medical dialogue."
The Good Wife,11.25pm, RTÉ One