Lisa McInerney's novel The Glorious Heresies has been shortlisted for the Baileys Women's Prize for Fiction 2016, the winner of which will be announced tonight. Paddy Kehoe caught up with the author to discuss her acclaimed debut.
Did getting shortlisted for the Baileys Prize make a difference - did people buy the book on the strength of it? "One would hope so," McInerney says, laughing in her easy, companionable way. "Quite a few people got on to me on things like Twitter to say without this book being shortlisted they would never have picked it up - they assumed it wouldn't have appealed to them. But they did and they liked it, which was fantastic." Prizes such as the Baileys, she believes, serve as "a really good road map for readers".
One of the Baileys judges is the musician-turned-memoirist Tracey Thorn. Did she know her stuff? "Yeah - doh! - a great 90s remembrance there. I had a bit of a fangirl moment about the fact that Tracey Thorn read my book and liked it."
The other works of fiction on the shortlist include fellow Irish novelist Anne Enright's The Green Road, The Portable Veblen by Elizabeth McKenzie, The Improbability of Love by Hannah Rothschild, Ruby by Cynthia Bond, and the Man Booker-nominated A Little Life by Hannah Yanagihara.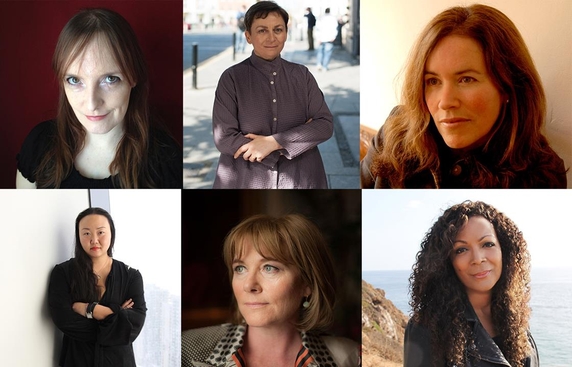 Interestingly, McInerney has bought these books, but she has been "far too nervous" to read them to date. "They are all sitting there until after the [award] announcement and I'll read them then," she says. Irrespective of how things turn out she will read them? "Oh, of course, of course," she assures me.
McInerney likes to read fiction, as it happens - "how we learn" she says, mischievously. However, she is wary of reading fiction in any concerted way, when she is actually in the middle of writing. "It can feel like a busman's holiday," she says. "It's very hard to take yourself away from seeing how it's done, the nuts and bolts of it. You can actually see the way it's been structured and it makes you feel like you're doing homework sometimes."
"When I'm writing I can't really read, in the sense that my attention span is gone as well. If I read a really good line, for example, that might set me off - 'wow, that's amazing' - and then I'll run off and do some writing myself. So, it's very, very hard to pay attention."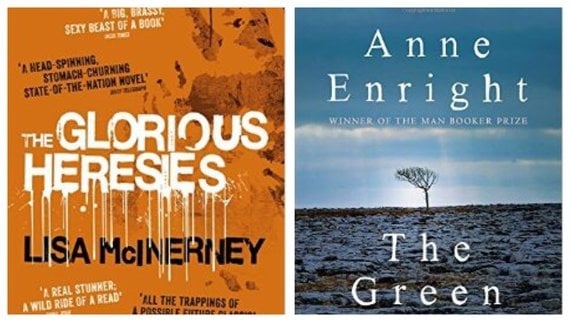 McInerney faces strong competition from Anne Enright
McInerney is from Gort in County Galway, where she is back living these days. She lived for a number of years in Cork, where she worked in the office of a construction company. She took great delight in learning how Cork people spoke through the office job, and put it to good use in The Glorious Heresies, which was published in April 2015 to a chorus of approval, from the likes of Joseph O'Connor and Kevin Barry.
The novel depicts the fall-out from an accidental killing in Cork, in a story told by five characters, a tale convincingly imagined in an earthy, vivid narrative. While there are five distinct voices, all her narrators share the same Cork way of expressing themselves. Only age makes a difference. "Maureen is 59 at the start of the book, so obviously her vernacular is different to one of the other characters who is aged 15," she explains.
Maureen has returned after 40 years exile in England. Her son Jimmy is the local gangster. McInerney's aim in the novel was "to capture a kind of post-Catholic Ireland where we're kind of Catholic but not really". "There's still very much a class [divide] and inequality and people are struggling, especially post-recession, trying to recapture whatever good we had during the Nineties and the Noughties," she continues. However, the story is told, she is careful to add, "with jokes".
The Galway author writes a blog entitled the Arse End of Ireland which has certainly proved useful. Kevin Barry spotted the blog and duly commissioned a story from her for the Faber Anthology of Irish Writing, Town & Country. That is essentially how she got into fiction. "You don't say no if Kevin Barry asks you to write a short story - by God, you write it," she says. "The story, called Saturday, Boring, was about two teenage girls shopping in Penneys for exciting underwear, because one of them planned to lose her virginity with her boyfriend. But they end up parting with bad blood, as it were."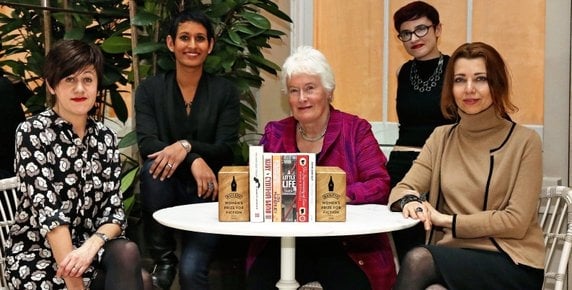 The judges with all the nominated books
Despite what McInerney says about nerves, it would seem that she has kept a cool head about the forthcoming award ceremony. Indeed, she seems like the kind of person that would keep a cool head about most things. The Baileys Women's Prize for Fiction - the winner of which will be announced at a ceremony at London's Royal Festival Hall - includes a pounds sterling award which amounts to €38,700 for the winner, which can't be bad.
Either way, win or lose, McInerney's sense of humour will carry her far, as it is bound up with her keen literary instincts and her endearing resilience. Her second book in a two-book deal is already written. It will certainly see the legend grow.
The Glorious Heresies is currently out in paperback