The celebrated Irish author Aidan Higgins died at the age of 88, in Kinsale, on Sunday December 27 2015. A new documentary on his life and work entitled Aidan Higgins: The Reach of Words airs tomorrow (Monday) evening on RTÉ Radio 1.
Born in 1927 in Celbridge, County Kildare, Higgins attained particular fame with his novel Langrishe Go Down. It was first published in 1966 and later adapted for a television film, with screenplay by Harold Pinter, and starring Judi Dench and Jeremy Irons.
The novel - still regarded as a twentieth century Irish classic - concerned a torrid love affair between a young German student and an older Irish woman. It won the James Tait Black Memorial Prize and the Irish Academy of Letters Award.
Aidan Higgins: The Reach of Words is produced by Clíodhna Ní Anluain. The programme considers the writer whose European outlook made his work seem exotic at a time when foreign travel was not commonplace.Yet he was wholly Irish in the texture of his language and his literary lineage appeared to begin with Joyce, proceeding on through the works of Beckett and Flann O'Brien.
Contributors to tomorrow evening's radio programme include fellow writer John Banville who paid tribute to Higgins at the time of his passing. "He was a wonderful writer, and that rarest of phenomena, a truly cosmopolitan Irish artist, " Banville told RTÉ TEN. 
"His misfortune was to have written his best book too early in his career - although if to be the author of Langrishe, Go Down is a misfortune, then we should all be so misfortunate. I salute his shade, and like to think of him happy in an interesting Underworld where he can consort with the likes of Djuna Barnes and his old drinking companion Samuel Beckett."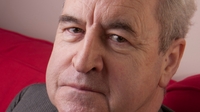 John Banville contributes to The Reach of Words
President Michael D Higgins also expressed his condolences, declaring that Aidan Higgins made an important contribution to Irish literature which was both groundbreaking and complex, and which would endure.
In a peripatetic life, Higgins lived in England, Spain, South Africa, Rhodesia (present-day Zimbabwe) and Germany, before settling for many years in Kinsale. His first collection of stories, entitled Felo de Se, were recommended by Samuel Beckett to the London publisher John Calder who issued them in 1960. Other notable works include Balcony of Europe, published in 1972, which was shortlisted for the then Booker prize. Bornholm Night Ferry was published in 1983.
Higgins perfected a sensual, elegant style of writing, best exemplified in the aforementioned works, but also in his thrilling, meditative memoirs, Donkey's Years, Dog Days, and The Whole Hog. 
Moving and wryly amusing by turns, Donkey's Years is one of the most beautifully resonant memoirs penned by an Irish author.Written with a keen ear for dialogue and mischief, it lyrically documents a quiet, country upbringing 70 years ago in County Kildare.
The publishers Dalkey Archive currently hold much of Higgins' impressive ouevre on their list. Jeremy agus Judi ar Bhruach Na Siúire, a documentary about the making of the film of Higgins' novel, Langrishe, Go Down was broadcast last October on TG4. 
Higgins had lived in Kinsale for many years with his wife Alannah. Their sons are Carl, Julien and Elwin and the couple also have a number of grandchildren. Aidan Higgins: The Reach of Words can be heard tomorrow, Bank Holiday Monday at 6.00pm on RTÉ Radio 1.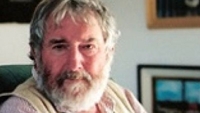 Aidan Higgins