The Monkees swing back into action with poppy new album of dusted off archive material and new songs written by the likes of Paul Weller, Andy Partridge and Neil Diamond
You can tell the level of esteem and affection The Monkees are still held in by the company they keep on this gorgeous 50th anniversary album.
A modern day Brill Building has been formed by Andy Partridge of XTC, Rivers Cuomo of Weezer, Paul Weller and Adam Schlesinger of Fountains of Wayne, who also produces the album. They've written new songs for the band and Schlesinger has also upholstered tracks from the Monkees' archives, including songs by Neil Diamond, Goffin and King and Harry Nilsson.
Good Times has all the knockabout spirit and keen pop smarts of The Monkees' sixties heyday and as if timed for our recent spell of good weather, it also sparkles with sunburst pop moments with hints of psychedelia and folk.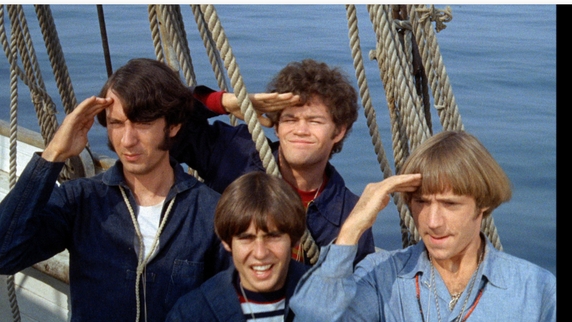 When they was fab
It is classic garage pop fare shot through the prism of early Stones/Beatles on the title track, while Cuomo's frayed at the edges She Makes Me Laugh recalls Arthur Lee and Love's second album De Capo. Davy Jones, the Monkee gone to heaven since 2012, provides vocals from the vaults on Love to Love, a track penned by the band's regular songwriter Neil Diamond and it has something of the sinister psychedelia of The Zombies and a cat's cradle of a guitar break worthy of The Byrds.
Noel Gallagher teams up with Paul Weller to dash off Birth Of An Accidental Hipster, another droll sub-Kinks ditty but it sounds bloated compared to the effervescence of what's gone before
The Carole King/Gerry Goffin collaboration, I Wasn't Born To Follow (previously recorded by The Byrds), is a real revelation; you can imagine Jimmy Webb writing it for Glen Campbell, by way of early Leonard Cohen, on a golden June day in '68.
Keeping it analogue and raw, Good Times is a joy. This is one band reunion that doesn't besmirch the legacy and even offers something new and fresh.
Alan Corr @corralan