Cabra man and WWE star Sheamus has told TEN that he went full-on Dublin in his role as dopey henchman Rocksteady in the new Teenage Mutant Ninja Turtles movie
"The Dublin accent really came out and it's a good sign that I haven't lost my accent after being in the States for nine years," he said.
Asked, as a fluent Irish speaker, was he tempted to use any Gaeilge in the movie, Sheamus said: "Well, I thought how much more Irish can you get in a movie in America? I would've loved to so who knows, maybe in the next movie I'll make Rocksteady really Irish - full-on Connemara Irish!" 
As Rocksteady, 6ft 4in, 267lb Sheamus is one of two dunderhead henchman who assist arch villain The Shredder in his attempts to take over the world and destroy the Turtles in Teenage Mutant Ninja Turtles: Out of The Shadows.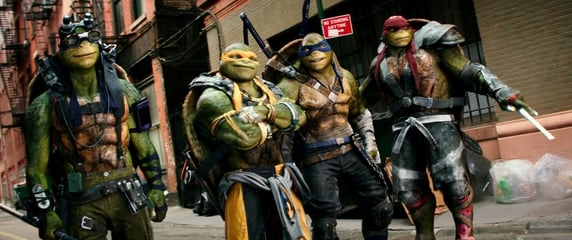 Sheamus also talked to TEN about scaring the bejaysus out of co-star Megan Fox on set and why he'd like to continue with his wrestling career along with taking on more acting roles. Click on the video link for TEN's full interview with Sheamus.
Teenage Mutant Ninja Turtles: Out of The Shadows is out now. Read our review here