Ronnie Wood and his wife Sally welcomed two "perfect" twin girls on the eve of his 69th birthday this Wednesday.
The arrivals are the first for the Rolling Stones guitarist and his theatre producer wife, who is 31 years his junior.
The musician is already father to four children, Jesse Wood with his first wife, former model Krissy Wood; daughter Leah and son Tyrone from his second marriage to Jo; and Jamie, Jo's son from a previous marriage whom Wood adopted.
A statement from the couple which announced the exciting new arrivals read: "Ronnie & Sally Wood are delighted to announce the birth of their twins Gracie Jane (6lb) & Alice Rose (5.7lb). The girls arrived on May 30 at 10.30pm and all are doing brilliantly. The babies are perfect."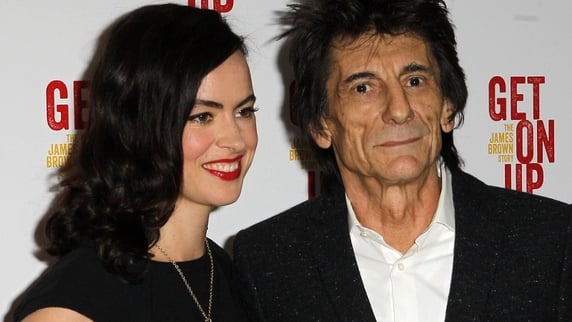 The couple met while Sally was working at the Theatre Royal in London, where Wood was displaying some of his artwork. They dated for six months before marrying in London's Dorchester Hotel in 2012.
In an interview with Hello! magazine, she said they don't notice the 30-year plus age gap, though Wood did admit Sally sometimes gets mistaken for being his daughter.
"Maybe it's the old-souls-young-soul thing, but we don't notice it", Sally said.
Wood tweeted about his excitement about welcoming the twins two weeks ago. 
I'm getting excited about the arrival of my twin girls sometime in the next few weeks💃👯 🍼🍼😎

— Ronnie Wood (@ronniewood) May 16, 2016
Waiting 💃👯🍼🍼🎁🎁 😍😍 🐶#38weeks+ pic.twitter.com/R3Ytav5A6w

— Ronnie Wood (@ronniewood) May 29, 2016
Since the news of their birth has been announced, people have been congratulating the Rolling Stones star and his wife on Twitter.
Welcome to Gracie Jane (6lb) & Alice Rose (5.7lb) ! #RollingStones #RonnieWood #SallyWood #babies pic.twitter.com/Kml5UDXEg4

— MarieFranceRemillard (@MFRemillard) May 31, 2016
.
Congratulations with your baby girls♥ @ronniewood @SallyWood ♥

— Sanne Angie (@SanneAngie) May 31, 2016