Irish director John Carney has found himself at the centre of media attention on both sides of the Atlantic over comments he made about his Begin Again star Keira Knightley in an interview. 
Speaking to newspaper website The Independent UK, the Dublin-born director said he would "never make a film with supermodels again" and was glad to have filmed his latest movie Sing Street in Ireland as he was "a bit disenchanted with working with certain movie stars".
Released in the summer of 2014, Begin Again was well-received by critics and took over $63m at the box office on a budget of $8m. Written and directed by Carney, the film told the story of a dejected music executive (Mark Ruffalo) who bonds with a singer-songwriter played by Knightley who has just broken up with her boyfriend (Adam Levine).
Explaining how he likes to work, Carney told The Independent UK: "The movie star world is not something that ever appealed to me. I like working with actors and I wanted to come back to what I knew and enjoy film-making again - not that I didn't enjoy Begin Again but Keira [Knightley] has an entourage that follow her everywhere so it's very hard to get any real work done, and so I was very ready to come back to Ireland and make films that nobody cared about who was in it or any of that crap."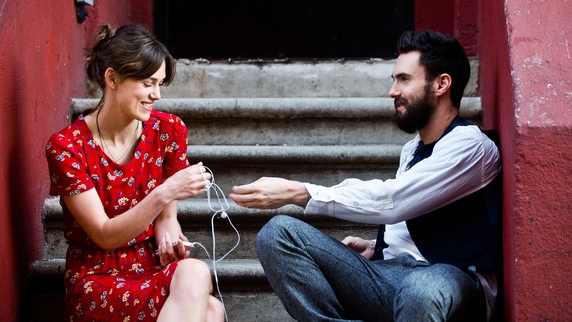 Keira Knightley and Adam Levine in Begin Again
The Once director went on to say that "the real problem was that Keira wasn't a singer and wasn't a guitar player and it's very hard to make music seem real if it's not with musicians. And I think the audience struggled a little bit with that in Begin Again.
"And as much as I tried to make it work I think that she didn't quite come out as a guitar-playing singer-songwriter. So I really wanted to work with musicians and actors that could play their instruments properly and sing and stuff like that."
Carney went on to praise double Oscar nominee Knightley's Begin Again co-stars Levine and Ruffalo, saying Ruffalo is a "fantastic actor" and Maroon 5 singer Levine is "a joy to work with".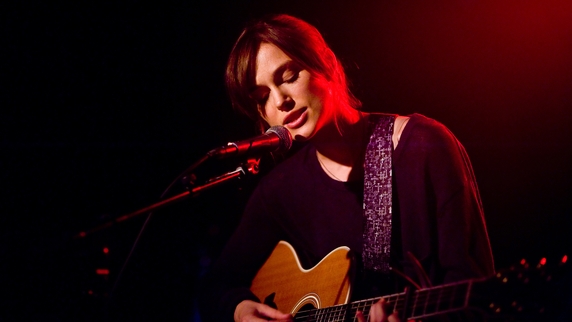 Keira Knightley as Gretta James in Begin Again
"I think that that's what you need as an actor; you need to not be afraid to find out who you really are when the camera's rolling," Carney continued. "Keira's thing is to hide who you are and I don't think you can be an actor and do that. And working with the kids on this film and real instruments there was no hiding going on. It really was a bit of a journey of self-discovery for the actors in Sing Street and that appeals to me.
"So it's not like I hate the Hollywood thing but I like to work with curious, proper film actors as opposed to movie stars. I don't want to rubbish Keira, but you know it's hard being a film actor and it requires a certain level of honesty and self-analysis that I don't think she's ready for yet and I certainly don't think she was ready for on that film."