Days after announcing her plans to divorce, Amber Heard has filed a domestic violence restraining order against her husband Johnny Depp.
E! News reports that the 30-year-old actress, who has been married to Depp (52) for 15 months, presented a photograph to the court showing what appears to be a bruise on her right eye.
A source told E! News, "This is not about right now. It's an ongoing thing that she needs protection from."
"She did what she had to do to protect herself. It wasn't an easy decision, but this is the truth. It was very hard for her."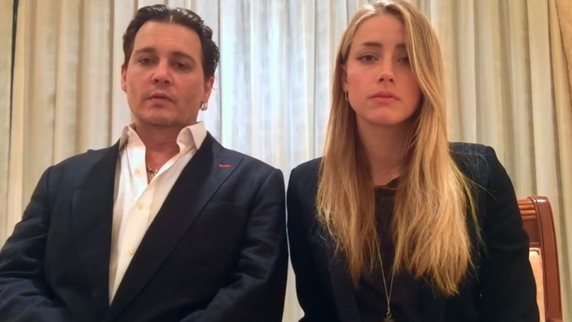 Depp and Heard were ordered a film an apology video by authorities after they smuggled their dogs into Australian last year
Heard, who filed for divorce in Los Angeles on Monday and is seeking spousal support from the actor, says she is the victim of repeated attacks by Depp.
"The judge issued a restraining order against Depp," a court official told the AFP news agency, adding that Heard had shown up at LA's superior court with a bruised face. 
She submitted pictures to the court to support her claims of abuse and said she feared Depp might harm her.
"During the entirety of our relationship, Johnny has been verbally and physically abusive to me," she said in a sworn statement.
She added that Depp has a "totally acknowledged public and private history of drug and alcohol abuse," and that she was scared of his temper.
Depp's lawyer Laura Wasser denied requests for comment, while Heard's attorney Samantha Spector was not immediately available.
Depp, who is currently promoting his new movie Alice Through the Looking Glass, broke his silence about his split from Heard on Thursday with a statement from a representative.
"Given the brevity of this marriage and the most recent and tragic loss of his mother," the statement said. "Johnny will not respond to any of the salacious false stories, gossip, misinformation and lies about his personal life. Hopefully the dissolution of this short marriage will be resolved quickly."
Heard and Depp met on the set of the 2011 film The Rum Diary. They married in a private ceremony at their Los Angeles home and later celebrated with friends and family in the Bahamas.