Money Monster ****
Director: Jodie Foster
Starring: George Clooney, Julia Roberts, Jack O'Connell, Caitriona Balfe, Dominic West, Giancarlo Esposito
Duration: 98 minutes | Cert: 15A
Money Monster is equal parts intense thriller and laugh out loud comedy, predictable yet often unexpected. The balance of all of this, the incredible performances, the insight into the news cycle and people's dwindling attention spans, creates something great.
Lee Gates (Clooney), the host of a mad-cap financial cable television show, finds himself held at gunpoint on live TV by Kyle Budwell (O'Connell), an angry investor who lost all of his money when a stock endorsed by Lee crashed.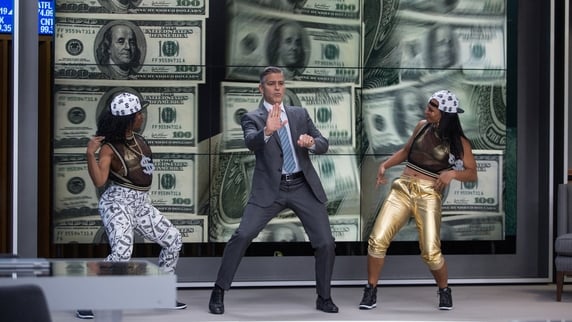 Demanding answers, and that the show stays live on air, Kyle berates Lee for encouraging him and countless other investors to put their money in IBIS when its share price plummeted so soon after.
As the drama unfolds, Lee communicates with his director Patty (Roberts) via earpiece and while they rarely share the same airspace, the chemistry between Roberts and Clooney is just marvellous and their connection gives the film a certain intimacy. Read Sinead Brennan's full review here.
Love & Friendship ****
Director: Whit Stillman
Starring: Kate Beckinsale, Chloe Sevigny, Tom Bennett, Stephen Fry, Xavier Samuel, Morfydd Clark
Duration: 92 minutes | Cert: G
Love & Friendship director
Whit Stillman's delightfully droll adaptation of Jane Austen's lesser-known novella, Lady Susan, is an absolute gem, combining a lush period drama setting with a razor sharp script and top-notch performances all round.
Filmed in Ireland, Kate Beckinsale is at the centre of the stellar cast as Lady Susan, a beautiful and conniving widower who is hell-bent on securing a marriage of convenience in order to maintain her comfortable lifestyle.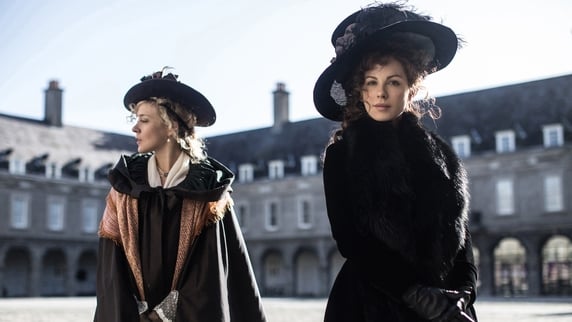 Amid scandalous rumours of her romantic impropriety abounding in high society, she packs up shop and heads to her in-laws' grand countryside estate to seek refuge. But, as with all of Lady Susan's actions, there is an ulterior motive at work, which is to wed her sister-in-law's handsome younger brother Reginald De Courcy (Xavier Samuel).
Her plans are all going swimmingly, that is until her shy and retiring daughter Frederica (Morfydd Clark) arrives unexpectedly, throwing everything into disarray. Threatened by her daughter's potential to come in-between her burgeoning romance with Reginald, she attempts to fast-track a marriage with the disgracefully rich but outrageously foolish Sir James Martin, played with scene-stealing aplomb by Tom Bennett.
Read Sarah McIntyre's full review here and click the video link to check out her interview with director Whit Stillman.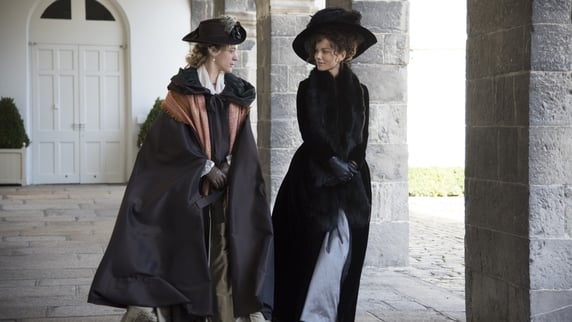 Alice Through the Looking Glass ***
Director: James Bobin
Starring: Johnny Depp, Mia Wasikowska, Sacha Baron Cohen, Anne Hathaway, Helena Bonham Carter
Duration: 113 minutes | Cert: PG
We've been down the rabbit hole and now we're through the looking glass as Alice (Mia Wasikowska) returns to Wonderland to save her old pal Hatter (Johnny Depp), who is dying from sadness as he wonders about the fate of his family.
Hatter's family were killed, or so he thought, by the Queen of Hearts' (Helena Bonham Carter) Jabberwocky, but when he makes a new discovery he is given hope that they may have survived the attack. Because no one will believe him, Hatter turns to Alice to help him to find out the truth - she doesn't believe in the impossible after all.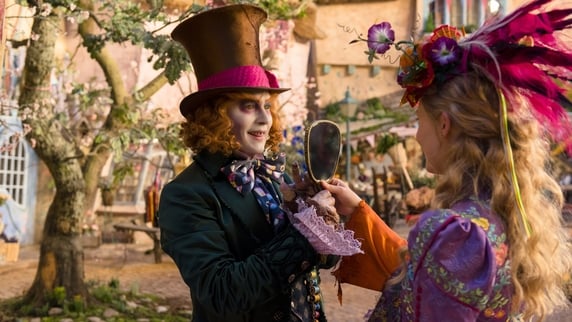 In order to get to the bottom of the mystery, Alice must track down Time himself (Sacha Baron Cohen) and use his Chronosphere to travel back in time - the catch being that he doesn't want to give it to her and the Queen of Hearts is after the exact same thing.
In a race against Time, literally, Alice has to navigate the past and journey through the ages in what is a vibrant, magical and visually-stunning adventure.
Read Sinead Brennan's full review here and check out her interview with director James Bobin below.
STILL SHOWING
X-Men: Apocalypse **
Director: Bryan Singer
Starring: James McAvoy, Jennifer Lawrence, Michael Fassbender, Oscar Issac, Nicholas Hoult, Rose Byrne, Evan Peters, Alexandra Shipp, Kodi Smit-McPhee, Ben Hardy, Tye Sheridan
Duration: 144 minutes | Cert: 12A
The X-Men return in an overlong ninth instalment which loses character impetus amid another overload of garish CGI
At this stage, director Bryan Singer has become an expert in pressing all the right buttons in the ever-expanding multi-verse of the superhero flick. This is his fourth X-Men movie and the ninth in the franchise and Singer's talent for slow motion CGI sequences of cities being uprooted and blown away or vast containers tumbling balletically from transport ships is beginning to make Roland Emmerich and Michael Bay look like uncompromising auteurs.
But before we can savour the wanton destruction of Sydney Opera House and Brooklyn Bridge in X-Men: Apocalypse, we have to sit through more than an hour and a half of screen time of back story and exposition. Clearly, Singer and screenwriter Simon Kinberg are anxious that we are up to speed with the X-Men series' torturous time shifts and story arcs before we can get down to the serious business of casual world destruction and dialogue delivered with clenched jaws and clenched buttocks.
Read Alan Corr's full review here.
Everybody Wants Some!! ****
Director: Richard Linklater
Starring: Blake Jenner, Will Brittain, Zoey Deutch, Ryan Guzman, Tyler Hoechlin, Glen Powell, and Wyatt Russell
Duration: 117 minutes | Cert: 15A
What we have here is a bit of a Back to the Future job for writer/director Richard Linklater. It comes on the cinematic coat-tails of his highly acclaimed Boyhood, which took the 'coming of age' genre to the ultimate by spending 12 years following a boy's development from the age of six to 18. This one feels like a follow-up to his breakthrough movie, Dazed and Confused, although Linklater also insists it's a sequel to Boyhood.
Well, it is his film. And it's a damn fine one, too.
Set in 1980, Everybody Wants Some!! follows the fortunes of Jake (Blake Jenner), a college freshman just out of high school. He's a promising pitcher and - as is the norm in US colleges - he moves into a house filled with other members of the college baseball team, and gets acquainted with several of his new teammates, including his redneck roommate.
Read John Byrne's full review here.
A Hologram for The King ***
Director: Tom Tykwer
Starring: Tom Hanks, Alexander Black, Sarita Choudhury, Sidse Babett Knudsen, Tracey Fairaway, Jane Perry, Tom Skerritt
Duration: 138 minutes | Cert: 12A
Tom Hanks does his reliable Everyman act once again in a quirky and snarky little movie about a businessman at the end of his tether.
The defining image in this curio from Cloud Atlas director Tom Tykwer is Tom Hanks as rumpled American businessman Alan Clay standing in full capitalist armour of business suit and briefcase at the edge of the Arabian Desert. The sun beats down and Clay is utterly lost. His whole life is unravelling around him as he loses the will to live during a make or break business trip.
He is in Saudi to flog new holographic projection software to a local king and Clay, at 55 years of age, is divorced and way past his mid-life crisis. In fact, he's on his third breakdown and in denial that this is it - this is the rest of his life.
Read Alan Corr's full review here and check out his red carpet interview with Tom Hanks below.
Angry Birds ****
Director: Clay Kaytis, Fergal Reilly
Starring: Jason Sudeikis, Josh Gad, Danny McBride, Peter Dinklage, Bill Hader, Sean Penn, Maya Rudolph, Kate McKinnon
Duration: 97 minutes | Cert: G
Sony Pictures didn't exactly cover itself in gaming glory with last summer's arcade-inspired adventure Pixels - a film so short on magic that not even the presence of Game of Thrones' Peter Dinklage could save it. Nearly a year on, however, the studio has got its joy shtick just right with this snarky-yet-sweet spin-off from the best-selling squawk-em-up - ironically, Dinklage is even part of the voice cast.
The plot finds explosive loner Red (Jason Sudeikis) sent to anger management classes after a particularly bad day at work. While determined to keep himself to himself, he ends up with wingmen Chuck (Josh Gad) and Bomb (Danny McBride), another two misfits who can't just let it be(ak). Soon, Red discovers that his temper could, in fact, be an asset when a mob of pigs arrive in a paddle steamer on the shores of his island home.
Read Harry Guerin's full review here and click the video link to watch his interview with director Fergal Reilly.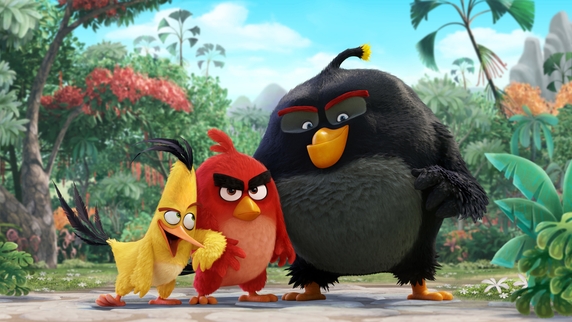 Bad Neighbours 2 ***
Director: Nicholas Stoller
Starring: Seth Rogen, Rose Byrne, Zac Efron, Chloë Grace Moretz, Selena Gomez, Dave Franco, Lisa Kudrow, Kelsey Grammar
Duration: 93 minutes | Cert: 15A
Director Nicholas Stoller has it very easy here. He does not hedge his bets in what is a sporadically enjoyable follow-up. He only really changes two things from the first Bad Neighbours romp - the gender of the hard-partying brats who have moved into the house next door to kidults Mac (Seth Rogen) and Kelly (Rose Byrne) and, in what is either a cop out or an attempt to make a late to the party point, a message about the evils of sexism. Well, duh dude.
Rogen is back with his wearisome man child schtick and Byrne does her elegant suburban wife with a potty mouth schtick. As the pair prepare to sell their house, local college freshers Shelby (a rather dull Chloë Grace Moretz) and her new besties, decide to set up her own sorority after a bad experience at a cattle mart college party. Guess what? They move in next door to Kelly and Mac and boy, do they party hard.