Bruce Springsteen played an epic three-and-a-half hour show in Croke Park on Friday night, opening his set with Darkness on The Edge of Town and charming the audience with a confession of love for Dublin city.
Taking to the stage in front of a capacity 80,000 crowd, which included An Taoiseach Enda Kenny, just after 7.00pm, Springsteen shouted, "Hello Dublin! My god there's a lot of you!". Later, he confided to the crowd, "Dublin! I got a crush on you!"
Following Darkness, Springsteen launched into a 33 song set which included Badlands, My Love Will Not Let You Down, Roulette, The Ties That Bind and Two Hearts. However, the crowd really started to warm up on an overcast evening on Dublin's northside with Sherry Darling.
Dancing in the Park: Over 80,000 fans packed into Croke Park in Dublin tonight to see #BruceSpringsteenhttps://t.co/ShyvneyRGL

— RTÉ News (@rtenews) May 27, 2016
Introducing Back in Your Arms, a song from the 1998 Tracks box set, Springsteen told the crowd, "We don't play this one too often because it's too f***ing sad." That song and Lost in The Flood were the first time Springsteen played the songs on his current River 2016 Tour.
The crowd at #CrokePark are in fine voice! #SpringsteenDublinhttps://t.co/fj4Tqsrqbv

— RTÉ TEN (@RTE_TEN) May 27, 2016
Some concert goers tweeted about poor sound in the upper stands but many fans described the atmosphere as electric. Springsteen has also been performing songs requested by fans holding up banners and placards including Roulette and It's Hard to be a Saint in The City.
.#BruceSpringsteen is giving it socks at #CrokePark right now! #SpringsteenDublin @brucespringsteenhttps://t.co/KcOzgUgOBW

— RTÉ TEN (@RTE_TEN) May 27, 2016
A curfew of 11.00pm had been set for Friday night's show with promoters hoping that the early start time would allow Springsteen to play his famously lengthy set without disturbing local residents around Croke Park. Springsteen kept to the curfew and finished the marathon set with a solo version of his 1995 song This Hard Land.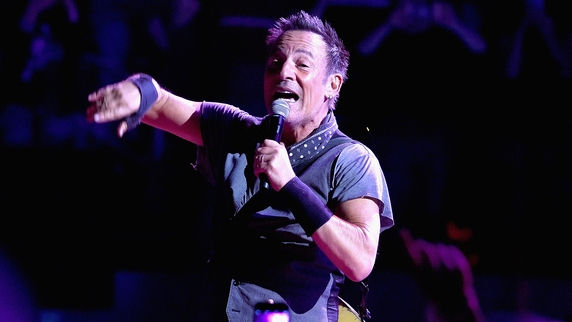 Boss time! pic.twitter.com/wkZpYsHZd2

— David McCullagh (@mcculld) May 27, 2016
Why Ireland was born to run with Bruce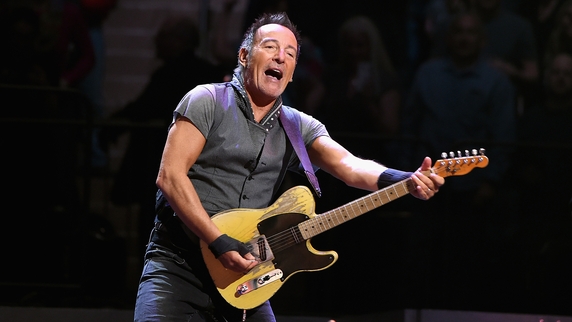 While 160,000 fans in total will attend Springsteen's concerts on Friday and Sunday night, many fans were left disappointed when they could not get tickets and they are being urged to be vigilant and to buy tickets from trusted sources only.
Come on then! #springsteendublin #bosscroker pic.twitter.com/XxHY2csA2T

— David McCullagh (@mcculld) May 27, 2016
"Ticketmaster are the official outlet; that is the route to go to buy a ticket. If someone on the street offers you a ticket, there is every possibility that ticket will be a bogus ticket," Jim Clarke of Aiken Promotions said. "Don't buy it. It's better not to come than to find that people have paid to go to a concert they won't be admitted to."
I can not believe this just happened #springsteen pic.twitter.com/GC6NCXDxsM

— Dan Walsh (@travors) May 27, 2016
Click on the video links to watch fans gathering outside Croke Park on Friday night and the RTÉ News report from the concert
Bruce's setlist at Croke Park on Friday night
Darkness on the Edge of Town
Badlands
My Love Will Not Let You Down
Roulette
The Ties That Bind
Sherry Darling
Two Hearts
No Surrender
It's Hard to Be a Saint in the City
Back in Your Arms
Hungry Heart
Out in the Street
Crush on You
You Can Look (But You Better Not Touch)
Death to My Hometown
Lost in the Flood
The River
Cadillac Ranch
Working on the Highway
The Promised Land
Waitin' on a Sunny Day
Tougher Than the Rest
Because the Night
Spirit in the Night
The Rising
Thunder Road
Encore
Jungleland
Born to Run
Dancing in the Dark
Tenth Avenue Freeze-Out
Shout
Bobby Jean
Encore 2
This Hard Land (solo)