RTE Prime Time presenter David McCullagh, may be well used to grilling politicians, but he got to conduct his biggest interview several years ago when he met his musical hero Bruce Springsteen. Here he tells us about his encounter with The Boss, ahead of his two concerts in Croke Park this weekend.
"Never meet your heroes" is usually good advice. It does not, however, apply to Bruce Springsteen.
I've been a fan for years, and have twice been lucky enough to interview Springsteen for RTÉ News.
In person, he was everything I had always imagined - warm, funny, generous with his time, and completely lacking in the type of ego that generally comes with superstardom.
Why Ireland was born to run with Bruce
Our first encounter was in the old Point in Dublin, when he was over for the first of his Seeger Sessions concerts in May 2006.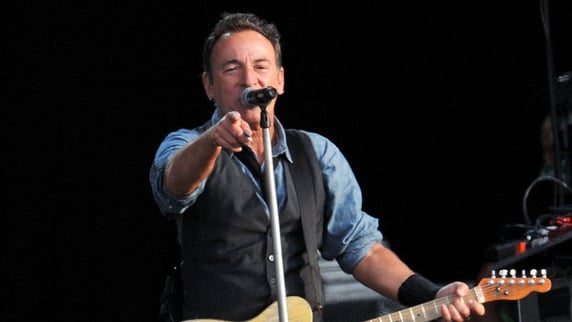 I had been badgering the record company for years looking for an interview, and much to my surprise the answer came back on this occasion that he was available.
Happy days! It was a slightly surreal experience, but we had a highly enjoyable chat. Well, I enjoyed it, I don't know about him!
Then, 18 months later, when he was playing Belfast on the Magic tour, I got lucky again, interviewing him backstage at the Odyssey Arena.
Springsteen does not, however, talk in soundbites - which gave me a bit of a problem when it came to editing. I rang the programme editor to explain that the report would be a bit longer than normal.
"No problem," she said. "After all, he was Born to Run!"
David McCullagh