The Presentation Kilkenny Secondary School choir missed out on a place in the Britain's Got Talent final by finishing fourth in Thursday night's semi. There is still a place up for grabs with the judges' wildcard, but the competition is fierce.
The choir and choir mistress Veronica McCarron had received a standing ovation from the judges and the audience for their performance of Ave Maria by Schubert. Gracious in defeat, they thanked everyone who had supported them. 
Thank you everyone who supported us, we are thrilled to have come so far! Thank you for the opportunity @BGT :) #BGT

— Pres Choir Kilkenny (@PresChoirKK) May 26, 2016
Show boss Simon Cowell had said he "absolutely loved" the performance. He described McCarron as "honestly special" and predicted a "battle of the choirs" in the final.
"It was like you came from Heaven." - @SimonCowell

😇 👏🏾 #PresentationSchoolChoir #BGT pic.twitter.com/dwVysniMx3

— Britain's Got Talent (@BGT) May 26, 2016
Fellow judge Amanda Holden said the "heavenly performance" had brought a tear to her eye.
David Walliams said the choir had chosen "the perfect song", while Alesha Dixon said the arrangement was "stunning".
Impressionist Craig Ball won the last of the semi-finals on the public vote and singer Jasmine Alcock was put through by the judges. Along with the judges' wildcard, members of the public also have the chance to put one third place act from the semis through to Saturday's final in a wildcard vote.
Fans of the choir reacted with dismay to Thursday night's result on social media:
In shock @PresChoirKK and I think the judges were too
Well done on fab performances
👏🏻👏🏻👏🏻👏🏻👏🏻👏🏻#BGT2016

— Gráinne Seoige (@grainne_seoige) May 26, 2016
Seriously worry about the British public voting off great talent #presentationschoolchoir. Can we really trust our choices #Brexit #BGT

— emma jackson (@mj030106) May 26, 2016
Gosh, I thought and hoped #presentationschoolchoir would have been through to the final #BGT2016 great performance tonight and real talent.

— karena ingram (@IngramKarena) May 26, 2016
Gutted for #PresentationSchoolChoir
They were my winners for @BGT #InAnotherLeague

— Linda Irving (@spnfan65) May 26, 2016
So gutted the #presentationschoolchoir did not get through to finals! Big mistake letting them go! 😩 #BGT2016

— Christopher (@Chrissyboy20) May 26, 2016
Is the public stupid. What about #Presentationschoolchoir #BGT2016

— Mark Occomore (@M_Occomore) May 26, 2016
Glad Craig got through but #PresentationSchoolChoir should not be going home #wildcard #BGT

— Brigid lang (@briglang) May 26, 2016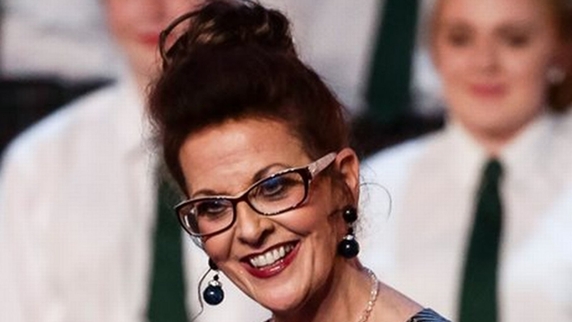 Veronica McCarron - Choir mistress was lavished with praise by the judges
Ahead of the semi-final, McCarron had told TEN that she thought music mogul Cowell was partly the reason why people were still talking about the choir.
McCarron, who lives outside Ballyshannon in Co Donegal, said she was delighted that Cowell's harmless banter and his compliments about her spectacles in the earlier stages of the competition had boosted the profile of the choir.
"It was just a laugh. We were delighted because that's partly why people are talking about the choir because of that bit of banter," she told TEN. "The glasses that I had on were Dior. I have eight pairs of glasses and I wear a lot of them.
"I've always had a lot of glasses. Years ago, I used to paint them with nail varnish, but now, of course, I have the real thing," she added.
McCarron, who retired from teaching at the school two years ago after 21 years, had said the singers couldn't wait to get up on stage again.
"You have to be there to believe it," she said. "The sound in the studio is astonishing and sounds different to what you hear on TV. The operation is just incredible and professional."