Russell Crowe has said that he is excited for his kids to see him taking on the role of Dr. Henry Jekyll in a big budget reboot of The Mummy alongside Tom Cruise.
The 52-year-old actor, who is currently promoting his new comedy thriller, The Nice Guys, with Ryan Gosling, said there is a percentage of him that took on the role because of his two sons, Charles aged twelve and Tennyson who is nine years old.
"I'm going to play Dr. Henry Jekyll in the reboot of The Mummy with Tom Cruise. It's the beginning of a thing that Universal are doing with what they call the Monsters Universe," he told TEN in London.
"So they can take a lot of their old school monster films from the '40s and '50s, things like Creature from the Black Lagoon and Invisible Man, and tie them all together in one overall plot. We'll see how we go with that," Crowe added.
Russell Crowe is excited for his kids to see him play Dr. Jekyll in #TheMummy reboot with Tom Cruise #theniceguyshttps://t.co/49IHWxFbhs

— RTÉ TEN (@RTE_TEN) May 23, 2016
Tom Cruise will reportedly play Navy Seal Tyler Colt, who is hunting terrorists when he is recruited to enlist the help of the band of monsters to battle an awakened ancient queen, played by Sofia Boutella.
Reports suggest Johnny Depp is also due to join the cast as the Invisible Man, alongside Sam Worthington and Jurassic World's Jake Johnson.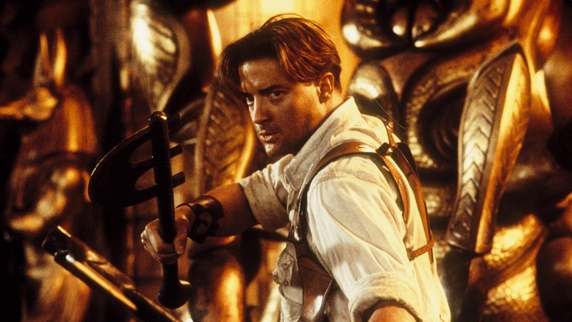 The New-Zealand born actor revealed that the movie would differ greatly from the Brendan Fraser-fronted The Mummy trilogy, and hinted that it could be set in the modern day.
"It's a fascinatingly creative idea and when they laid it all out for me, it was very appealing. I have to admit there is a certain percentage involved in this, that is about my kids because they think it's pretty exciting. There's something in Henry Jekyll and how he gets to where he goes, which I think will be almost A Beautiful Mind-ish," he said.
It was previously reported that the film is set to rival the Marvel Avenger's franchise, with each character eventually getting their own spin-off movie.
Brendan Fraser starred in the 1999 version of the action adventure horror film, as well as two sequels, The Mummy Returns and The Mummy: Tomb of the Dragon Emperor.
The Mummy reboot is slated to hit cinemas in June, 2017.