Veteran British Director Ken Loach has described his second Palme d'Or win at the Cannes Film Festival, for I, Daniel Blake, as "a message of hope".
He scooped the top prize for the movie about a 59-year old Newcastle carpenter, played by comedian Dave Johns, who is recovering from a heart attack and can no longer do his job. However as he's declared fit for work, he looses his state benefits.
@davejohnscomic Well done sir! A brilliant achievement! Very proud of you!

— Dara Ó Briain (@daraobriain) May 23, 2016
The 79-year old director previously won the Palme d'Or 10 years ago for The Wind That Shakes the Barley, which was set during the Irish War of Independence and starred Cillian Murphy.
Loach says his new film is intended to highlight the cruelty of the British welfare system.
"We must give a message of hope, we must say another world is possible,"  he said as he accepted the prize.
There was strong Irish involvement in the winning movie which was shot by Irish cinematographer Robbie Ryan. Ryan enjoyed double success yesterday as another of the movies shot by him, American Honey, scooped the Jury Prize, while the line producer on the winning Palm d'Or movie was Clarewoman Eimhear McMahon.  
Loach was up against a host of international stars for the prestigious prize including Spanish Oscar-winner Pedro Almodovar, Sean Penn and Paul Verhoeven.
Reflecting on the fact he has won the prestigious prize for a second time, Loach said it was "extraordinary" because it was "the same little gang" that won in 2006.
"It's just nice to be in that team. Our breath has been taken away, I have to say, because we weren't really expecting to come back. So we are quietly stunned," he said.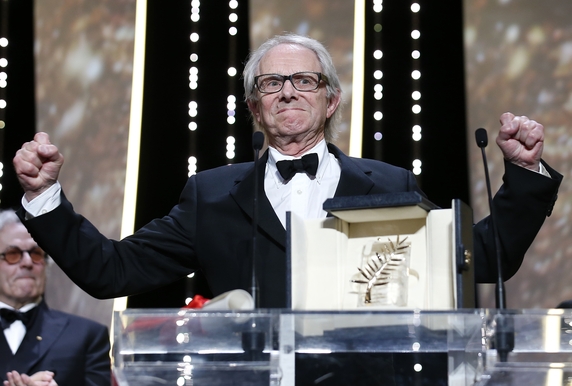 Loach, who's a noted left-wing activist, also took time out in his post-win Press Conference to take a pot shot at the EU which he said had caused "hardship and poverty for millions of people" .
"I think the European Union is embodying neo-liberalism. You see it in the way they humiliated the Greek people. It has caused hardship and poverty for millions of people and a great struggle for a lot of other people who are not desperate but they are having a hard time", he said,
The prestigious annual accolade is traditionally awarded by a jury comprised largely of film-makers and actors. Recent winners of the Palme d'Or include Blue Is the Warmest Colour (2013); Winter Sleep (2014) and Dheepan (2015).