Monaghan actress Caitriona Balfe has revealed that she was "teased quite a bit" by George Clooney and Julia Roberts on the set of their new movie Money Monster.
In Money Monster, Balfe plays Diane Lester, the chief communications officer of IBIS, a company whose stocks have just plummeted.
The IBIS stock was endorsed by TV host Lee Gates (Clooney) and he finds himself being held at gunpoint by an angry investor (Jack O'Connell) who demands answers.
For much of the film, Balfe's character interacts with the other stars remotely as she appears as an on-air contributor to the live television show, which is being directed by Roberts' character.
In reality, her scenes were filmed on a set right next door to where Roberts and Clooney were filming, but during the scenes they share she was unable to see them, but they could see and hear her.
"They could see me and hear me, but I could only hear them, and so they were teasing me quite a bit," Balfe, the star of hit TV series Outlander, told Vanity Fair.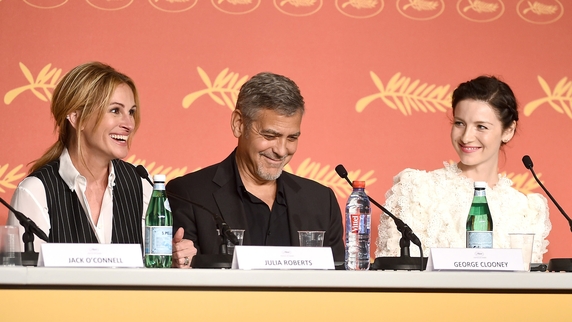 Julia Roberts, George Clooney and Caitriona Balfe
"It's weird when you can't see somebody and you're trying to have a conversation. They were like, 'What are you doing? What are you reading there?'."
The 36-year-old star hailed the film's strong female characters, which were made "deeper than they are on the page" by director Jodie Foster.
"It's not like, oh, here is our powerful female character and we're going to let her do the powerful woman thing," Balfe said. "You have two incredibly intelligent businesswomen who are good at what they do."
Money Monster hits Irish cinemas on May 27.