Singer-songwriter Guy Clark, best-known for the songs Desperados Waiting for a Train and L.A. Freeway, has died in Austin, Texas. He was 74 and had been ill for some time.
Clark, who played regular gigs in Ireland two decades ago, was born in Monahans, Texas in 1941. Despite bad health, he was still bringing out records, the most recent being My Favourite Picture of You, which was released in 2013 and duly won a Grammy award for Best Folk Album.
One of the songs on the album celebrated the life of his beloved wife, Susanna, who passed away in 2012 from lung cancer. "My favourite picture of you is the one where your wings are showing," sang Clark.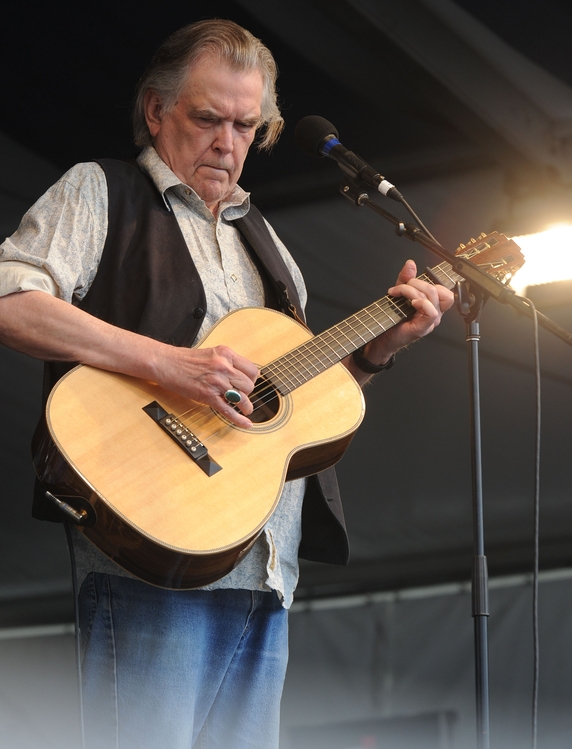 Genius at work - Guy Clark at the 2009 New Orleans Jazz & Heritage Festival 
The singer and guitarist came from a literary, highly-cultured background and Mexican folk and flamenco influenced his long years of songwriting. During his boyhood, his father hosted regular poetry readings at dinner time, and there were no TV sets in the family home. 
Clark had a lifelong love for literature which fed into timeless classics such as Desperados Waiting for a Train, Old Friends (featuring vocal help from Emmylou Harris), The Randall Knife and L.A. Freeway. He had been a keen sportsman in his youth, playing on multiple teams in high school. An expert woodcarver, he built guitars in the basement of his home in Nashville.
The Irish singer-songwriter Freddie White must take some credit for introducing the music of Guy Clark to Irish audiences, with Desperados Waiting for a Train a much-welcomed feature on White's set-list in the 1970s. In fact, the song featured on White's first, live-recorded solo album.
Promoter Derek Nally, who also passed away some years ago, arranged concerts for Clark in Ireland. Fans will recall two particularly brilliant consecutive solo Clark gigs in Whelan's of Wexford Street, Dublin some two decades ago. On both those shimmering and rich occasions, the reticent yet curiously expansive troubadour that was Guy Clark held the crowd in the palm of his hand.
Friends and fans have been paying tribute on social media:
Guy Clark: 1941-2016. Travel safe, old friend. I would not be the songwriter I am if I hadn't sat at your table and learned from a master.

— rosanne cash (@rosannecash) May 17, 2016
Sad to hear of former guest, #GuyClark 's passing. Man of few words, but the ones he committed to song were pearls. pic.twitter.com/8T0osfP6Bw

— john creedon (@johncreedon) May 17, 2016
Sad to hear about the passing of Guy Clark. I'll never forget the day I wrote with him and him busting out a J the size of a baseball bat.

— KACEY MUSGRAVES (@KaceyMusgraves) May 17, 2016
My friend @GuyClarkKCA passed from the world this morning. Rodney pic.twitter.com/bmeSTQsbIq

— Rodney Crowell (@RodneyJCrowell) May 17, 2016
An American artist. Guy Clark. RIP.

— Jeff Daniels (@Jeff_Daniels) May 17, 2016
And we lose yet another legend. R.I.P. Guy Clark. ❤️❤️ 2016, the year the music died. pic.twitter.com/wG89I63Q5H

— Johnny Knoxville (@realjknoxville) May 17, 2016
Another huge loss for music. A hundred floors above us in the tower of song. #guyclark https://t.co/kENTxnMUo2

— Gretchen Peters (@gretchenpeters) May 17, 2016