Ireland's Eurovision hopeful Nicky Byrne is continuing his preparations for this year's songfest in Stockholm with his first full day of rehearsals in the Swedish capital.
The former Westlife star will perform his song Sunlight in the second semi-final next week and in his latest video update teased fans about the outfit he'll be wearing. "Not now, you gotta wait," the RTÉ 2fm presenter said as he closed the door of his hotel room wardrobe. "Suspense is good."
Byrne will be hoping to reverse Ireland's recent dismal record in the competition after we failed to qualify for the final for the past two years.
Room with a view! ALL roads lead to The Globe Arena @GlobeArenas @Eurovision #TeamIreland #Sunlight 🍀 pic.twitter.com/WQ8JNUBawv

— Nicky Byrne (@NickyByrne) May 3, 2016
So no shortage of pressure for the singer who's well used to the international stage.
"The reality kind of set in I'd say about three days ago," Byrne told TEN at Dublin Airport on Tuesday as he prepared to jet off. "It was one of those where I was driving home from rehearsal going, 'This is really actually happening now'."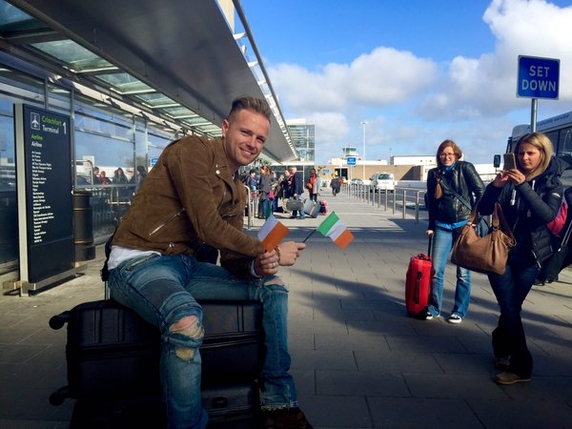 He also explained that he's delighted with the level of support he received in advance of his departure for Stockholm.
"I'm excited now. The last few days have been good and not getting a lot of sleep last night. I got some great well wishes on Twitter last night from people around the world.
"One of the Westlife fans put a great video together with loads of well wishes from people. That really got me going, with a Rocky kind of theme. It nearly got me wanting to go out for a run last night at one o'clock in the morning."
Byrne added that he has received some advice from one of Ireland's Eurovision greats, Paul Harrington, who won the competition with Rock 'n Roll Kids in 1994.
"I'd great well wishes from Paul Harrington yesterday [Monday]. He called into our rehearsals in RTÉ and talked to me about his experiences and, you know, what he feels I probably can do and can't do," Byrne said.
Up up and away ...
So honoured and Proud to
represent Ireland
🍀
I'll do my best .. pic.twitter.com/uMqRyhzXVF

— Nicky Byrne (@NickyByrne) May 3, 2016
"He did [give me good advice], the simple things that I would know from my old Westlife days. You know, drink a lot of water, shut up when you can, which isn't really in my nature!
"He's an old pro and in my opinion one of the best ever winning Eurovision songs for Ireland. He listened, said we're in great shape and to just go out and deliver it and hope we deliver one of the good ones."
"We're here now and we'll give it our best," he added. "Team Ireland is all set."
Going through my outfits
My late dads original Ireland football jersey from the 80s. Could this be a runner? ⚽️🍀 pic.twitter.com/rnAKGRyI9q

— Nicky Byrne (@NickyByrne) May 3, 2016
The Eurovision Song Contest Semi-finals are on RTÉ2 on May 10 and 12.