The estate of Whitney Houston has signed off on a new film which promises to tell the "unvarnished and authentic" story of the late singer's troubled life. 
The as yet untitled film will be directed by Oscar winner Kevin Macdonald and will follow Houston's life from her early days singing in her church's gospel choir to her massive success as an international pop star with global hits such as The Greatest Love of All, and How Will I Know?
Houston was found dead aged 48 in her guest room at the Beverly Hilton, in Beverly Hills, California in February 2012. The official coroner's report showed that she had accidentally drowned in the bathtub, with heart disease and cocaine use listed as contributing factors.
Rolling Stone reports that the new film will feature interviews with Houston's friends, family and collaborators and feature never-before-seen footage of Houston, as well as demo recordings and rare performances from her archives.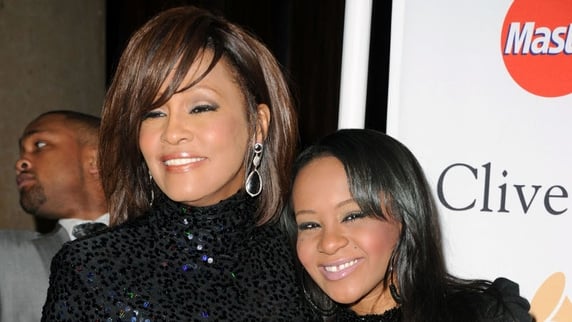 Whitney Houston pictured with her daughter Bobbi Kristina who died in 2015 
In a statement, Macdonald, who won an Oscar for Best Documentary in 2000 for One Day in September, which was about the attack on Israeli athletes at the 1972 Summer Olympics in Munich, said: "The story that is never told about Whitney is just how brilliant she was as an artist; by many measures, she had the greatest voice of the last 50 years.
"She changed the way pop music was sung - bringing it back full circle to its blues and gospel roots. She was also completely unique in being a black pop star who sold in countries where black artists don't traditionally sell."
Macdonald added that his film would not "shy away from the darker parts of Whitney's life," including her fraught marriage to Bobby Brown and her struggles with drug abuse and addiction. 
Filmmaker Nick Broomfield is also making a film about Houston for BBC Two that "goes in search of the forces that made and then destroyed the singer."