Michael McIntyre left Ronan Keating with some explaining to do when he hijacked his mobile phone and sent some questionable texts to the singer's entire contact book.
The prank, which was part of the Send to All segment of Michael McIntyre's Big Show on BBC One, was projected on a giant screen.
McIntyre wrote: "Feeling a little insecure. Do you still think I'm hot? I mean Harry Styles, Bieber and that guy who plays Poldark... Can I still compete with these guys?"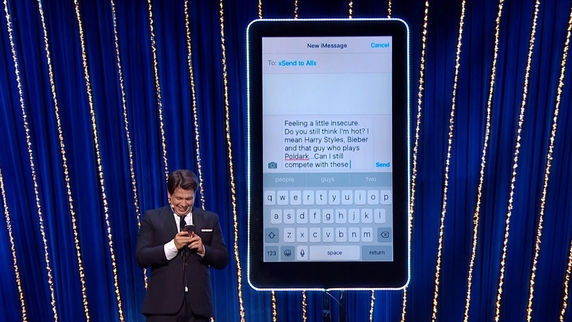 When You Say Nothing At All: McIntyre sent some questionable texts from Keating's phone
He initially signed off "Ro Ro your boat" but erased it before sending the message to everyone in Keating's phone book.
Keating, who appeared on the show with his wife Storm Uechtritz, received a hilarious response from singer James Blunt saying, "Ronan. You are the king, they are all just cheap imitations of you. You will always be No.1. PS - We should be together."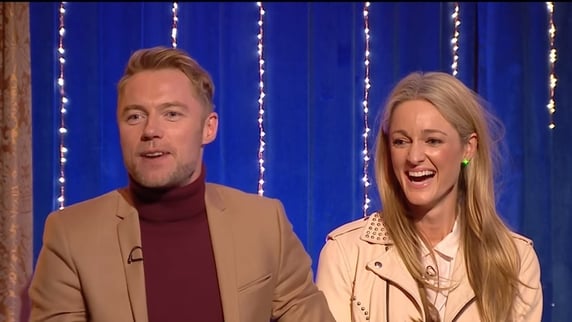 At least Keating had Storm's hand to hold during the embarrassing ordeal
Ronan's brother Gary also sent a comical text back, "Bieber and Poldark don't have a patch on you... Harry is a tough one though!"
Sherlock actress Amanda Abbington also got in on the act, writing "Is this that guy from Westlife?"
Oscar winner Russell Crowe seemed to be on the ball and have the situation sussed, texting, "Haha! Someone's got your phone mate!"
Michael McIntyre's Big Show airs on BBC One at 7.15pm on Saturdays.