In his July 1990 appearance on BBC Radio 4's Desert Island Discs, singer and guitarist Eric Clapton picked Prince's Purple Rain his favourite track, his so-called Castaway's Favourite.
His other choices on the programme were Giacomo Puccini's Senza Mamma (from Suor Angelica), with soloist Renata Scotto and the New Philharmonic Orchestra, Conductor Lorin Maazel; Georges Bizet's Au fond du temple saint from the opera The Pearl Fishers) soloist, Ernest Blanc with the Nicolai Gedda Orchestra.
Paying tribute to his first love - the Blues - Eric chose Robert Johnson's Crossroads Blues, Muddy Waters' Feel Like Going Home and Freddie King's I Love The Woman.. In the soul field, he chose Stevie Wonder's I Was Made To Love Her, Ray Charles singing Hard Times
Most interestingly though, Slowhand's Castaway's Favourite was Prince's Purple Rain, and hardly for trendy or topical reasons, given that the song was first released six years previously.
The album of the same title, Purple Rain, has sold over 22 million copies worldwide and is reputedly the sixth best-selling soundtrack album of all time.
Jon Bon Jovi is among the many musicians who have revered the sound of Prince's landmark album. "There's every emotion from the ballad to the rocker," he observed. "All the influences were evident, from Hendrix to Chic."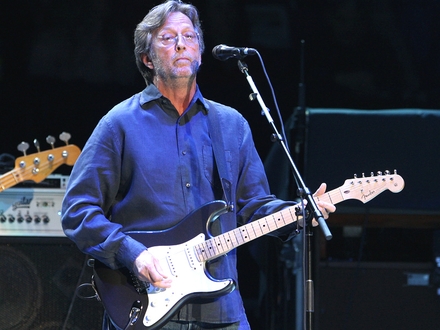 Eric Clapton: The Blues way of Purple (Rain) chosen almost 26 years ago on Radio                                    4