US President Barack Obama began his final day of his visit to London with a tour of the Globe Theatre, which is dedicated to the work of William Shakespeare. The 400th anniversary of the playwright's death falls today, as does that of the Spanish author of Don Quixote, Miguel de Cervantes.
The Globe theatre - which is situated in the Southwark district of London - is a replica of the open-air playhouse which Shakespeare designed in 1599. In the course of his visit, President Obama watched a performance of a short  extract from Hamlet, including the iconic "To be or not to be" soliloquy.
The scenes were performed by actors from a company which began a two-year world tour of Shakespeare's work in 2014. The company has to date performed for more than 100,000 people in 197 countries. Obama described the performance as "wonderful".
During the tour of the open-air theatre, the US President asked impromptu questions about the seating and performances at the Globe.
World Book Day is celebrated today, April 23, because it was once believed that both Miguel Cervantes and William Shakespeare died on that date. They both may have died on the same date, but this would not have been on the same day, as Spain had already switched to the Gregorian calendar. England still followed the Julian calendar which is still the year-long guide for Orthodox Christians. Thus Cervantes is said to have died yesterday, if one follows the calendar distinction.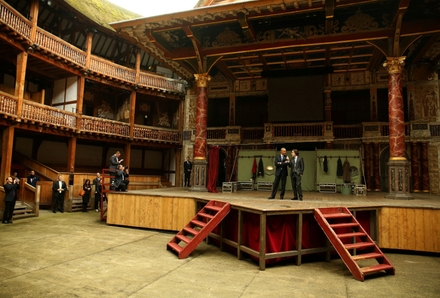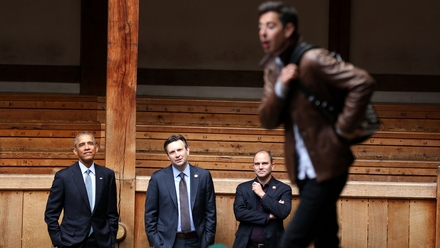 President Obama visited the Globe theatre earlier today, on the final day of his visit to the UK