Over nearly four decades and across 39 studio albums, Prince was a man who enthralled, inspired, infuriated and confused. He was also an artist who was always impossible to second guess. Alan Corr and Harry Guerin looks back at the career of a genius
For many of us, the listen and love-in has been going on for over 30 years, but from Thursday April 21, 2016 the soundtrack takes on a new dynamic to go along with all the great memories, laughs had, tears shed, hearts broken and repaired.
A master at fusing rock, soul, R `n' B, soul and funk, Prince, the multi-instrumentalist child prodigy, released his debut album For You in 1978 and a self-titled follow-up in 1979. In the decade that followed, he made the Eighties his own with a string of classic albums.
While he is best known for 1984's soundtrack to the film Purple Rain and 1987's double album Sign o' the Times, Controversy (1981), 1999 (1982), Around the World in a Day (1985), Parade (1986) and Lovesexy (1988) deserve to be ranked as must-haves in any record collection.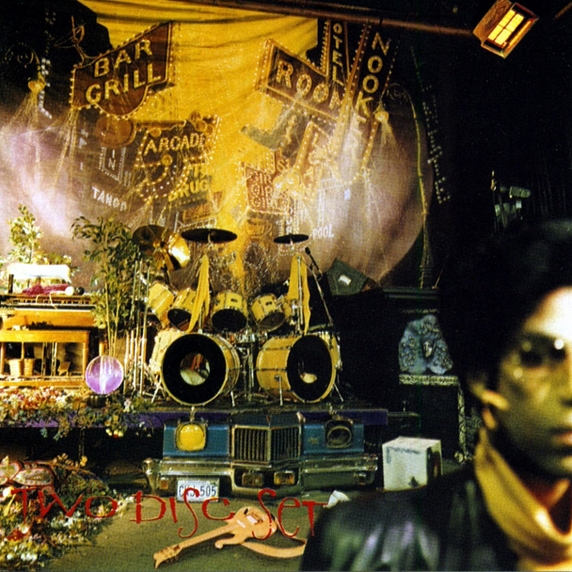 Prince's 1987 state-of-the-world double album was a career high
The quality and consistency of the singles he released throughout the decade are comparable and often far superior to those of Michael Jackson and Madonna's - and for many, Prince stole the show year-in, year-out. Kiss certainly ranks as one of the greatest songs of the era and he closed the Eighties with the soundtrack to Tim Burton's Batman, which contained another two classics: Batdance and Scandalous!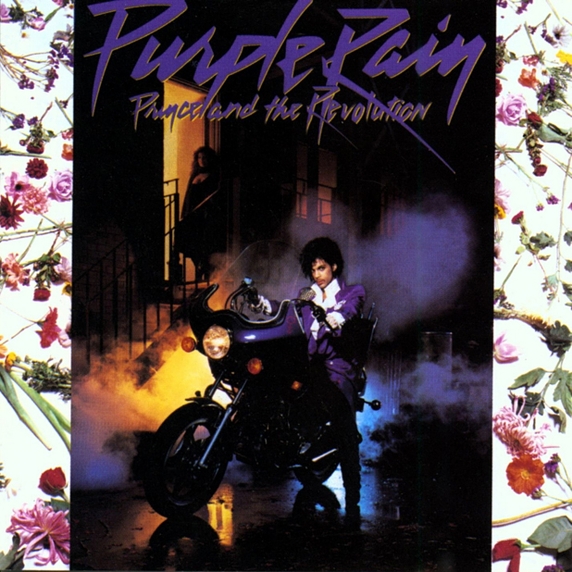 The album that brought him to a global audience
How Prince brought his Purple Reign to Ireland
The 1990s opened spectacularly for Prince when his song Nothing Compares 2U became an international smash hit for Sinéad O'Connor. Originally written for one of Prince's long line of protégés, The Family, O'Connor - with real tears streaming down her face in the video - turned the track into a symphonic love song of pain and heartache. It made her an international star and underlined once again that Prince was a man with a Midas touch.
However, when it came to his own new material, the Graffiti Bridge album and the companion movie - a box office flop - seemed disappointing compared to his insouciantly cool Eighties output.
Prince was back on form the following year with Diamonds & Pearls which, along with the title track, yielded more hit singles, the high-powered James Brown influenced Gett Off and Cream, one of the most lascivious songs ever to grace the global charts.
Sexy MF, which received its world premiere in the surrounds of the RDS in Dublin, was another key hit in 1992 and the following year, he slammed home his primacy with the bold swagger of My Name is Prince.
By 1994 he had dropped the name Prince and, to the chagrin of sub editors and typesetters everywhere, renamed himself with a symbol and scored a No 1 with his ballad The Most Beautiful Girl in the World.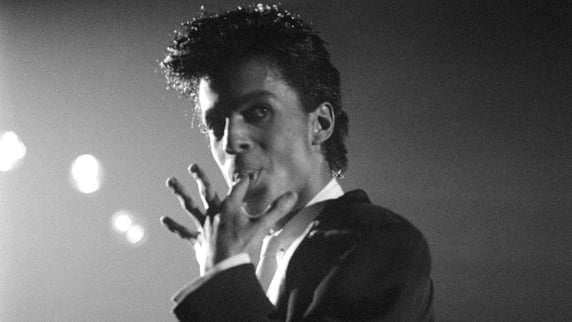 Tributes pour in for 'greatest of all time'
In 1992 he released the Love Symbol Album at a time of acrimony with long-time label Warner Bros. He adopted the symbol sobriquet and, to the relief of sub editors and typesetters everywhere, was subsequently referred to as The Artist Formerly Known as Prince. He eventually left Warners in 1996, having fulfilled his contractual obligations with a series of albums released in quick succession.
Once free of the corporate shackles, his already dizzying output increased but with this prolificacy many would argue that the quality bar dropped and his every utterance and action seemed to be a rebuke to the machinations of the grasping talons of the music industry. To the end, Prince took an admirably combative stance on new technology and modes of music delivery. Last year he removed his work from Spotify and anyone hitting up YouTube for Prince's music will be disappointed.
In 1996 Prince released a string of albums - The Gold Experience, Chaos and Disorder and Emancipation - and began a new phase in his career. The artist formerly known as Prince was striking out to reclaim his legacy but perhaps his output increasingly came to appeal more to the funk hardcore than the mainstream audience he had won the previous decade.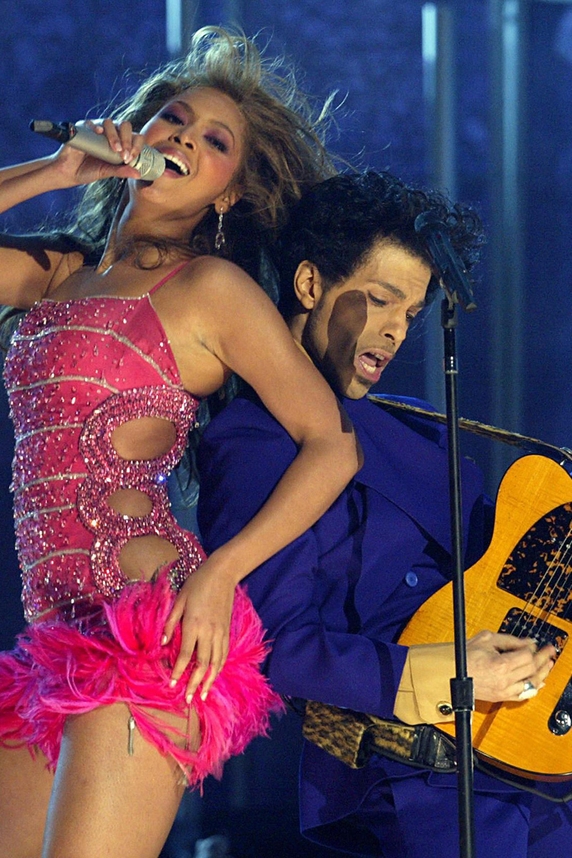 Beyonce and Prince at the 2004 Grammys
What followed over the next twenty years were no less than twenty albums in very quick succession, each one rejoicing in arcane neo-funk fantasy titles such as Rave Un2 the Joy Fantastic, Lotusflow3r, MPLSound, Plectrumelectrum, and just last year, HITnRUN Phase One and Phase Two.
As he sang so very beautifully on Sometimes it Snows in April from his album Parade, all good things, they say, never last. Really? There is a dazzling amount of Prince music already out there to enjoy and given the legend of his Paisley Park vaults, it seems more than likely that we can expect a lot more from Prince over the coming years.
His name is Prince and he will always be funky.
For a look back at a gallery of Prince's career click here.