US President Barack Obama has led the tributes to music legend Prince, who has died at the age of 57, saying that the world has lost a creative icon.
President Obama wrote on Facebook: "Few artists have influenced the sound and trajectory of popular music more distinctly, or touched quite so many people with their talent. As one of the most gifted and prolific musicians of our time, Prince did it all. Funk. R&B. Rock and roll. He was a virtuoso instrumentalist, a brilliant bandleader, and an electrifying performer."
US President Barack Obama has led the tributes to Prince, saying that the world has lost a creative icon.https://t.co/Am9ZKgNaQa

— RTÉ TEN (@RTE_TEN) April 21, 2016
The President said that "nobody's spirit was stronger, bolder, or more creative" than Prince's.
"Our thoughts and prayers are with his family, his band, and all who loved him," he concluded.
TEN looks back at Prince's career
The news of Prince's sudden passing has been greeted with disbelief and sadness by celebrity fans and friends. Oprah Winfrey referenced one of his biggest hits in her tribute on Twitter:
Prince the doves really are crying now. Listening to your music. Remembering you. #RIPPrince

— Oprah Winfrey (@Oprah) April 21, 2016
Singer Katy Perry said the world had "lost a lot of magic", while Chic's Nile Rodgers described him as his brother.
And just like that...the world lost a lot of magic ? Rest in peace Prince! Thanks for giving us so much...

— KATY PERRY (@katyperry) April 21, 2016
#RIP our dearly beloved #Prince. Tears and love on our tour bus. @CHICorg @nilerodgers I'll never forget my brother. We've had #good times

— Nile Rodgers (@nilerodgers) April 21, 2016
Director Spike Lee also described Prince as his brother and said he was a "funny cat" with a "great sense of humor".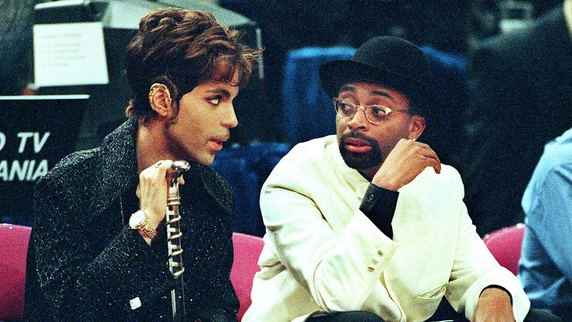 Prince and Spike Lee in 1988
I Miss My Brother. Prince Was A Funny Cat. Great Sense Of Humor. https://t.co/67umQghtbi

— Spike Lee (@SpikeLee) April 21, 2016
Most of those paying tribute have hailed him as one of the greatest musicians of all time. TV host Ellen DeGeneres described him as "brilliant and larger than life" while Kiss bassist Gene Simmons described him as a "giant" of music.
The stars have been paying tribute to the late, great Prince. RIP.https://t.co/me54naKfgp

— RTÉ TEN (@RTE_TEN) April 21, 2016
Irish singer-songwriter Jack L described him as the "greatest of all time", while The Voice UK coach and Culture Club singer Boy George said that, for him, it was "the worst day ever".
RIP The Greatest of all time ,#Prince, Tom Petty, Steve Winwood, Jeff Lynne "While My Guitar Gently Weeps" https://t.co/tDA97ino7j

— Jack Lukeman (@jackllukeman) April 21, 2016
Justin Timberlake wrote a heartfelt post on Instagram, writing
More than a "once in a lifetime" artist... Just a ONCE IN FOREVER ARTIST. I'm still in shock as I write this and I feel this overwhelming grief. But, we should all turn away from that and HONOR this musician that changed all of our lives, our perspectives, our feeling, our whole being. From another planet? Probably. Royalty, for sure. Us worthy..? Laughable.
Music producer Quincy Jones meanwhile described Prince as "a true artist in every sense of the word" and said he had "Gone way too soon."
How Prince brought his Purple Reign to Ireland
I loved this Man. Too soon. Can't comprehend it but it's unfortunately true. Heaven is yours. RIP #Prince #RIPPrince pic.twitter.com/EH8paEvn75 — MC HAMMER (@MCHammer) April 21, 2016
Prince was brilliant and larger than life. What a sad day. — Ellen DeGeneres (@TheEllenShow) April 21, 2016
Nothing touches our lives quite like music.Part of my youth is gone..Thank you #Prince Words don't do justice to u ?? pic.twitter.com/qv6KctNTKS

— Kristin Davis (@KristinDavis) April 21, 2016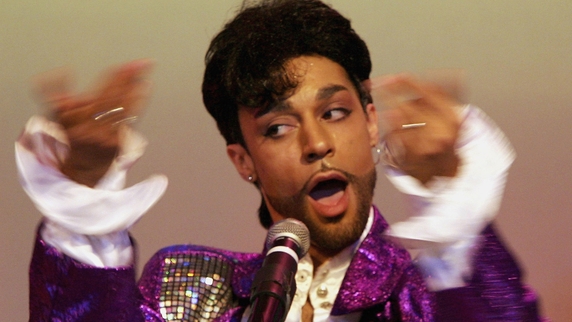 #prince #genius just so sad - Cannot believe this. Xxxxx https://t.co/Z9n45s1hGh

— Sharon Corr (@Sharon_Corr) April 21, 2016
Doves will cry tonight. We celebrate you brother and this thing called Life. Godspeed to the great Afterparty. #Prince

— The Jacksons (@Jacksons) April 21, 2016
We've just lost an incredible talent! So sorry to hear about #Prince we will always love your music forever and ever! #RIPPrince

— La Toya Jackson (@latoyajackson) April 21, 2016
A shock to read #Prince has died. He was so magnificent at the Super Bowl that I was privileged to perform the National Anthem in sign. RIP

— Marlee Matlin (@MarleeMatlin) April 21, 2016
PRINCE, sad to say, has passed on!!! He was a Giant. My deep condolences go out to his family, friends and fans.

— Gene Simmons (@genesimmons) April 21, 2016
Words cannot describe the gigantic crater left in the wake of the death of #Prince. This one truly hurts. RIP. The doves are crying.

— Josh Gad (@joshgad) April 21, 2016
Today the doves will be crying purple tears #Prince

— rose mcgowan (@rosemcgowan) April 21, 2016
I can't believe #Prince has passed. This is horrible news. #ripprince so sad :( :(

— Hilary Duff (@HilaryDuff) April 21, 2016
RIP to @prince…a true artist in every sense of the word. Gone way too soon.

— Quincy Jones (@QuincyDJones) April 21, 2016