John 'Jack' Leslie, one of Ireland's oldest surviving Second World War veterans and "the oldest swinger in Ibiza" has died, aged 99.
Leslie, a member of the family that owns the Castle Leslie estate in Co Monaghan, had an obsession with modern nightclubs, and was proud to say he had been to more clubs in Ireland than many professional DJs.
He celebrated his 85th birthday in 2001 by travelling to Ibiza to party at Privilege, then the world's biggest nightclub and was the subject of two documentaries about his clubbing exploits, Lord of the Dance and Uncle Jack and the Boom Boom Music.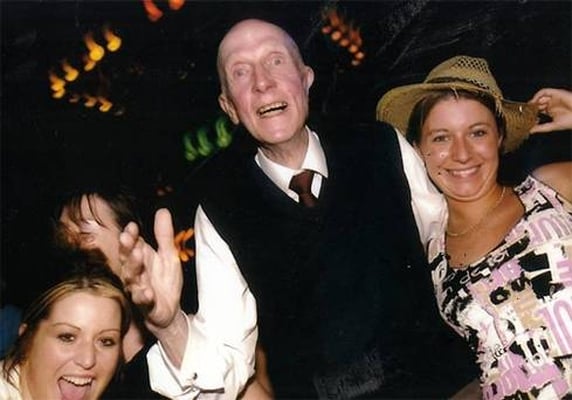 Jack Leslie on a night out. Pic: Bre Detwiler
"At first I did not pay any attention because I thought discos were gloomy dark places with people dancing quietly," he said at the time of his 85th birthday.
"Then I thought I would try one and went on my own to the Oasis in Carrickmacross and it was just fantastic.
"It is such fun watching people dancing and the music gets in your bones and makes you get up and dance.
"I get up and I leap around just as I feel like. When I hear the boom boom it electrifies me. I can leap up and down and it's as if my ankles were electrified.
The boom boom music has gotten just a little less boomier. Ireland's oldest clubber #JohnLeslie has died aged 99https://t.co/Y2ftERjZtZ

— RTÉ TEN (@RTE_TEN) April 18, 2016
"People were worried at first and said these discos might be rough but they are the absolute opposite. Everyone is so nice to me.
"The boys keep bringing me pints for some reason and the girls keep taking me out to dance and kissing me. It's wonderful. The people are fantastic and it seems to amuse them I'm there. They say they hope they're like me at 85. One boy threw his arms round my neck and told me I was his idol."
His family said this taste in music was "perhaps one of the most endearing of Uncle Jack's hobbies".
"Each week he would visit the local night club to dance to the "boom boom" music. He quickly gained respect in the clubbing community to the extent there is a nightclub named after him in Clones, Co Monaghan," they said.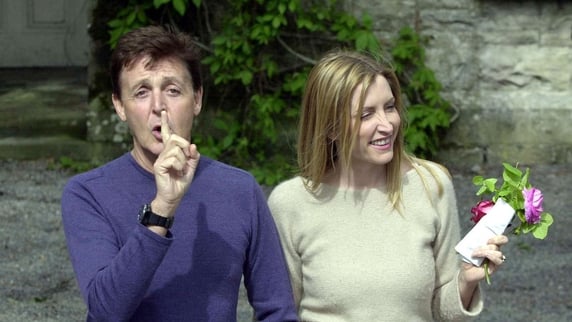 Ssshh! Paul McCartney's wedding to Heather Mills in 2002 was a very public affair
Jack became an international news sensation in 2002 as his castle hosted Paul McCartney's wedding to Heather Mills.
With the global media gathered at the gates of the estate near Glaslough he announced the superstar's nuptials were taking place behind the gates but that it was "a secret".
Fans of the late 'Uncle' Jack have been leaving tributes on a special Facebook Appreciation page.
With sadness the Leslie Family announce the death of Captain Sir John Leslie Bt who died peacefully at home today. pic.twitter.com/MKWaDnoc1O

— Castle Leslie Estate (@Castle_Leslie) April 18, 2016
Please post your messages and memories celebrating #UncleJack life on the Sir John Leslie Appreciation page https://t.co/beikYPrYDe

— Castle Leslie Estate (@Castle_Leslie) April 18, 2016