Production is now under way on RTÉ's brand new Amy Huberman-starring comedy-drama Can't Cope, Won't Cope, which will air as part of the channel's autumn schedule.
Produced for RTÉ2 by Deadpan Pictures, Can't Cope, Won't Cope is a six-part series following two Cork twentysomethings, Aisling and Danielle, whose relationship and lifestyle starts to spiral out of control. Fuelled by mad nights out and bolstered by a sense of entitlement, these girls are running away from the reality that's hurtling toward them.
The series, currently being filmed at locations around Dublin, features rising stars IFTA nominee Seána Kerslake (Dollhouse) and Nika McGuigan (Traders) as Aisling and Danielle.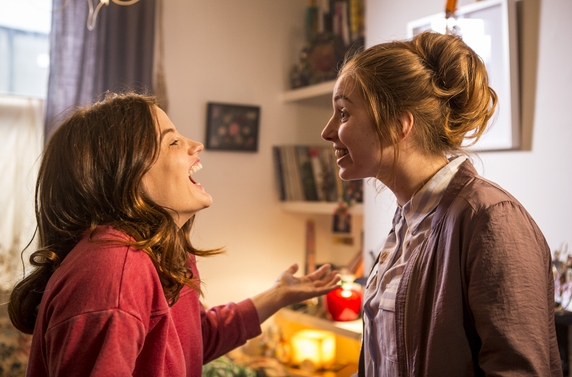 Can't Cope, Won't Cope stars Nika McGuigan and Seána Kerslake (Pic: www.karlhussey.com)
A strong supporting cast is headed up by Amy Huberman in her first project for RTÉ since Your Bad Self, Norma Sheahan (Bridget & Eamon) and Eileen Walsh (Pure Mule, Catastrophe).
RTÉ head of Comedy, Talent Development and Music Eddie Doyle said: "Can't Cope, Won't Cope is a funny, engaging and realistic comedy-drama that explores the issues faced by young Irish women today. Starring two up-and-coming actresses, and written, directed and produced by women, the show aims to capture what life is really like for young women as they navigate their way through all the drinking, dating and drama of their 20s."
Producer Ailish McElmeel added that she is excited "to bring an achingly truthful and funny series to the screen" as the pair of "post Celtic tiger cubs" find their way in a world they are "very much at odds with".