New York's Tribeca Film Festival - co-founded by Robert De Niro - kicks off today with a special tribute to mark the 40th anniversary of Taxi Driver which starred the actor in his most iconic role.
De Niro will be joined by director Martin Scorsese, writer Paul Schrader along with cast members Jodie Foster and Cybill Shepherd for a special screening of the iconic 70s film followed by a public discussion.
Hailed as one of the greatest films of all time, Taxi Driver, delved into the life of a disgruntled Vietnam veteran now working as a late night cab-driver who starts to act out his vigilante fantasies. To this day it remains one of the most quoted movies ever, in particular Travis Bickle's scene where he confronts a would be target in the mirror uttering the memorable lines, "You talkin' to me? Then who the hell else are you talkin' to?".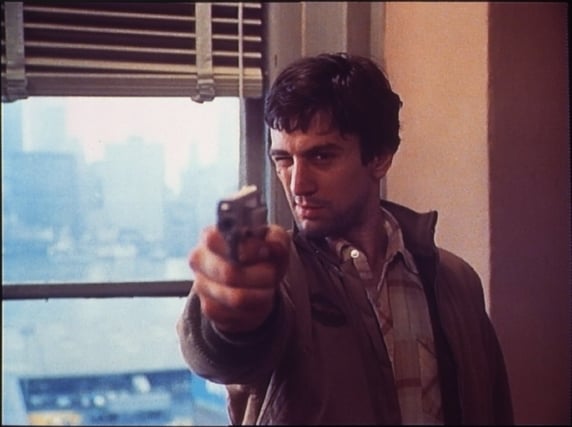 It received four Oscar nominations, including Best Picture and Best Actor for Robert De Niro, and two Golden Globes.
Also at the festival, Tom Hanks will be attending the World Premiere of his latest film, A Hologram for The King.
Based on the novel by Dave Eggers and directed by Tom Twyker (Run Lola Run), it charts the story of an unlucky American businessman who tries to get his life back on track by travelling to Saudi Arabia and selling a novel sales (holograms!) idea to a wealthy monarch.
Other highlights showing at Tribeca include the drama The Devil and the Deep Blue Sea, starring Jason Sudeikis as a reclusive architect who forms a relationship with a homeless teen following the death of his wife played by Jessica Biel.
Also to be unveiled is Custody which stars Viola Davis, Hayden Panettiere and Catalina Sandino Moreno as three women whose lives are radically altered after a family court battle in New York. Meanwhile, the romantic drama, The Meddler features Susan Sarandon along with recent Oscar winner, JK Simmons will also be screened following its premiere at the Toronto Film Festival.
Tribeca will also screen the coming-of-age drama Mr Church, starring Eddie Murphy as a chef and Wolves, starring Michael Shannon, which explores the life of a complex family man whose addiction to gambling threatens to jeopardise his son's desire to go to university on a sports scholarship.
Shannon also stars in the festival's centrepiece screening, Elvis & Nixon, which follows the star in 1970, when he visited the White House seeking to be deputized into the Bureau of Narcotics and Dangerous Drugs by President Nixon, played by Kevin Spacey who knows a thing or two about playing villainous occupants of the White House.