The rainy weather on Saturday didn't deter hundreds of Waterford locals who turned up to audition for a new EastEnders' spin-off starring Shane Richie and Jessie Wallace.
The soap couple, who play Kat and Alfie Moon, are set to swap grey old Albert Square for the sunny streets of Dunmore East later this year to star in their own six-part drama, which has the working title of Redwater.
The show will be set in Ireland after the Moons decide to move here to seek answers over Kat's long-lost son and filming is due to begin in the town in May.
Locals with a thespian bent attended open castings on Friday (April 1) at the Sailing Club, Dunmore East and on Saturday at The Central Arts on The Quay in Waterford.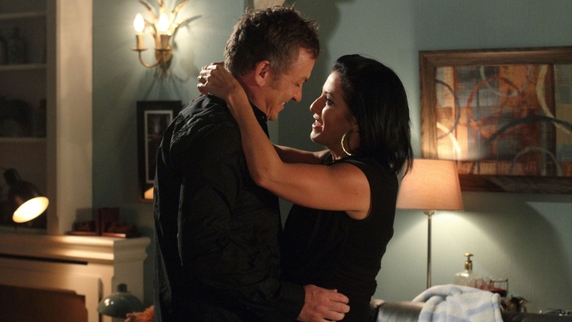 Local woman Rose Noctor told RTÉ News, "I'd always followed EastEnders since the day it started and I've always loved the Kat and Alfie storyline so to have a little part in it would be brilliant, just to be seen."
Another hopeful, Limerick woman Niamh Begley, said: "I'm an actor by trade so I thought I'd chance my arm and see maybe could I get a job out of this and tell people I'm a paid actor."
Corkman and aspiring actor Aaron O'Neill revealed a gift for a theatrical flourish when he told RTÉ reporter Grett O'Connor: "It went remarkably well, I filled in the form to the nest of my ability. The pen stroke is masterful and I didn't lie and that was it - they took a picture and that was that. It was all very clinical so hopefully I'll get a call."
Ciara O'Connell, director at the Central Arts on The Quay, said producers were looking for men, women and children of all ages to audition and encouraged the whole community and surrounding areas to get involved.
"We only started a year and a half ago and we are a voluntary organisation trying to get the arts and the music scene going in Waterford again," she said.
"To have something like this come across our doorway is fantastic for us, and so exciting for Waterford and the surrounding areas. I know some of the filming is going to be done in Dunmore East too. We are just delighted to be part of it - it's fantastic."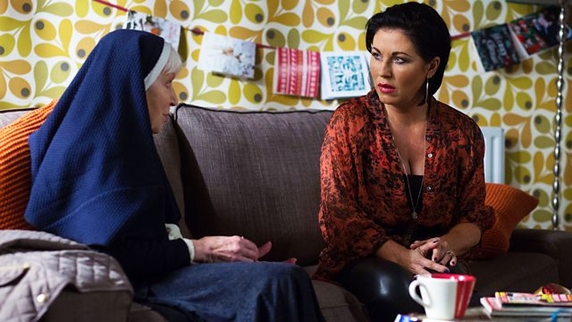 Sister Ruth tells Kat she has a long lost son (Pic:BBC)
O'Connell joked that she hopes Kat's twin son with have a "hearty Irish accent" and said she hopes history doesn't repeat itself, referring to when EastEnders came to Ireland back in the '90s.
In 1997, EastEnders came under fire after broadcasting three singular transmissions that were filmed on location in Dublin that portrayed Irish people as "dirty, rude, and drunks".
The episodes, which involved the Fowler and Beale family travelling from London to Ireland to meet their long-lost relatives, received complaints from angry Irish viewers for negative stereotyping.
In one scene, a man spilled a pint over Pauline's head before demanding she paid for it. In another scene, farm animals casually wandered the streets of Dublin.
Complaints were made to the BBC and to the Irish Embassy and there were fears that the episodes would have a negative effect on the Irish tourist trade. The BBC was forced to issue an apology for causing offence.
There's going to be a 'big name' in @JessieWallaceUK @realshanerichie's @bbceastenders spin-off show in Irelandhttps://t.co/XO8uHSnFM9

— RTÉ TEN (@RTE_TEN) January 20, 2016
Richie and Wallace recently told TEN the cast and crew of the spin-off show are mainly Irish and revealed a "big name" would also be taking part.
The pair recently starred together on stage at Dublin's Bord Gáis Energy Theatre in a production of Peter James' thriller, The Perfect Murder.
What annoys @JessieWallaceUK about her @bbceastenders co-star@realshanerichie? @BGETheatre #ThePerfectMurderhttps://t.co/7YivWRznKM

— RTÉ TEN (@RTE_TEN) January 19, 2016