Anne Hart, the wife of the late actor and comedian Ronnie Corbett, has opened up about her husband's illness saying he was "courageous" and "never once grumbled or complained."
The star died on Thursday (March 31) aged 85, having been diagnosed with a suspected form of motor neurone disease.
Corbett needed round-the-clock care and some days only managed to eat a few pieces of fruit, a single sweet and drink a glass of champagne, his wife said.
Hart, who was married to Corbett for more than 50 years, told family friend Michael Thornton that her husband "never once grumbled or complained" throughout his illness.
Writing in the Daily Mail, Thornton said she told him: "No one could have been more courageous."
Corbett's illness began around Christmas 2014, at a time when Hart said he "started to feel unwell and found it hard to breathe and to lie down".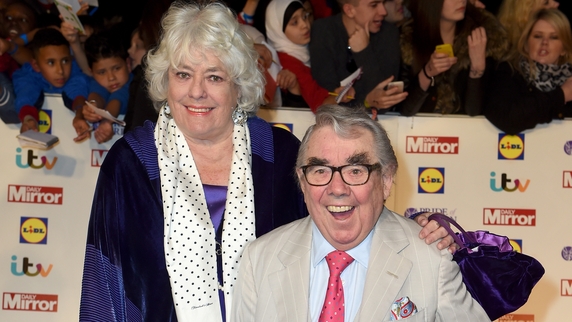 Ronnie and his wife Anne
Recalling the moment the doctor diagnosed Corbett, she said they were told it was most likely to be amyotrophic lateral sclerosis, commonly known in the UK as motor neurone disease.
She told Thornton it "knocked us both back", and if it had not been for Stephen Hawking - who suffers from the disease - and the Eddie Redmayne film about him, The Theory Of Everything, they would not have heard of it at all.
Talking about caring for Corbett, she added, "It became a 24-hour job, with Ron getting gradually weaker. He was not in pain, and up to the last 48 hours, he was fully conscious and aware of everything."
Born in Edinburgh in 1930, he decided he wanted to be an actor while performing in amateur theatricals at a church youth club. Following National Service in the RAF he moved to London to pursue his dream.
He appeared in the BBC children's show Crackerjack as a regular in its early days, and had a walk-on in an early episode of the 1960s TV series The Saint and appeared in several films including Rockets Galore! (1957), Casino Royale (1967), Some Will, Some Won't (1970).
In 1965 he was spotted in cabaret by David Frost saw him and asked him to appear in the weekly satricial show, The Frost Report, where he first met Ronnie Barker. Corbett said he and Barker were drawn together as two grammar school boys who had not gone to university.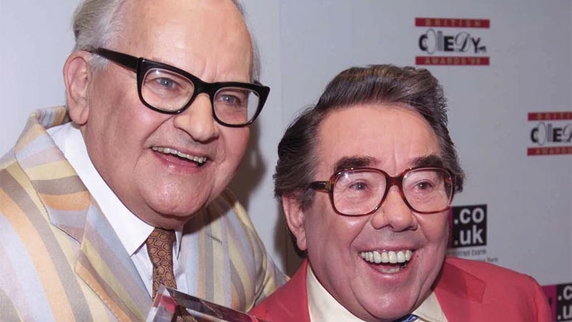 The Two Ronnies
After appearing in several other TV shows, including his own The Corbett Follies (ITV 1969), the BBC launched his legendary television comedy show with Ronnie Barker, The Two Ronnies, which lasted from 1971 to 1987 which at its peaked was watched by 22 million viewers.
Barker and Corbett performed sketches and musical numbers, while Corbett most memorably presented a monologue. Sitting in a large easy chair (emphasising his small size, he was just 5' 1"), and usually wearing a Lyle & Scott golfing V-neck sweater, he would tell a simple joke over several minutes, often allowing himself to appear to lose his train of thought.
His best-known role, apart from The Two Ronnies, is as the 40-something Timothy Lumsden in the sitcom Sorry! which ran for seven years in the 1980s and is best remembered for the catch-phrase 'Language Timothy!'. In the '90s, he appeared on the première of the short-lived BBC game show Full Swing, hosted by Jimmy Tarbuck and also had a role in the film Fierce Creatures, written by his former colleague John Cleese.
He also played Po in children's animated series, Teletubbies, and also hosted the game show Small Talk.
In 2005, Corbett teamed up again with Ronnie Barker for The Two Ronnies Sketchbook, comedy sketches from their original series with newly recorded linking material.
The same year he appeared with comedian Peter Kay in the spoof music video for the charity single Is This the Way to Amarillo?
Corbett married actress and dancer Anne Hart in 1965; they have two daughters, actresses Emma and Sophie Corbett. Their first child, Andrew, had a heart defect and died just six weeks old.