Keith Duffy and Brian McFadden have said that while they are going on tour with a night of Boyzone and Westlife memories under the Boyzlife banner later this year, fans should not expect to see them pursuing a pop career as a double act.
Speaking on Friday's Late Late Show, former Westlife singer McFadden said of the Boyzlife moniker: "That's the name of the tour. I think a lot of people were confused, thinking me and him were getting together and 'doing a Jedward'. We're not going on Top of the Pops."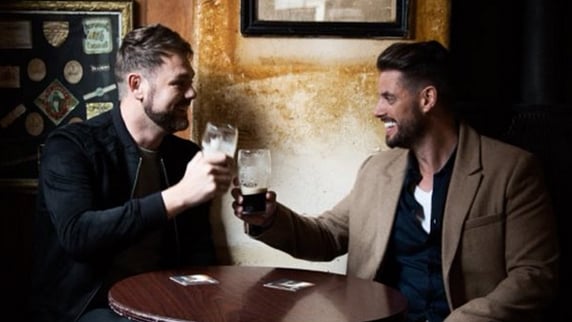 McFadden and Duffy - Irish shows in November Photo: Keith Duffy, Twitter
Boyzone's Duffy described himself and McFadden as "Jedward's granddads", to which McFadden replied: "Oldward. Awkward."
"It's a theatre show onstage where we interview each other; we reminisce about times we've had, we show clips of different moments over the last 20-odd years," said Duffy. "Then that might lead us into a song and we go in and we'll murder a couple of songs together."
We agree with @BrianMcFadden & @officialkeith's 'director's commentary' is class! @RTELateLateShow #LateLatehttps://t.co/396cw3roGs

— RTÉ TEN (@RTE_TEN) March 18, 2016
"We'll sing the songs," continued McFadden, "but you have to understand it's because they're going to complement the story."
McFadden laughed off his former bandmate Kian Egan taking issue with using half the Westlife name for the new venture, while Duffy said the man who played a big part in his and McFadden's careers, Louis Walsh, had given it his blessing.
Duffy and McFadden will bring Boyzlife to Dublin's Conrad Hotel on November 1 and 2.
What does Louis Walsh think about @officialkeith @BrianMcFadden touring as #Boyzlife? @RTELateLateShow #LateLatehttps://t.co/pCc5VXgDCa

— RTÉ TEN (@RTE_TEN) March 18, 2016