TV chef Jamie Oliver has revealed his wife Jools is expecting their fifth child together and said they have no plans to expand their family further after the new arrival.
The couple, who celebrated their 15th wedding anniversary last year, are already parents to Poppy Honey Rosie, 13, Daisy Boo Pamela, 12, Petal Blossom Rainbow, six, and Buddy Bear Maurice, five.
"I thought we'd have a couple of kids but that's about it. Basically I do what I'm told but she's an amazing family maker and I just go with it," he told the Daily Mirror at the premiere of Eddie The Eagle in Leicester Square on Thursday evening. "I love kids. My family keep me honest, I have a weird job, a weird life, but my family keep me quite real," he added.
As for whether he was hoping for a girl or a boy, Jamie said, "You know what, I'm always grateful for what I get, it would be nice to balance it out a bit."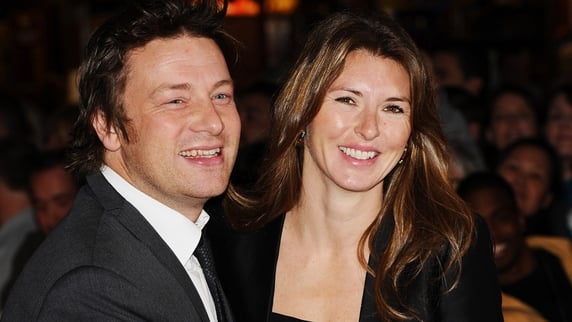 Jools and Jamie expecting fifth addition to their brood
In 2012, Jools, who met Jamie when the pair were teenagers, said she was biding her time before having another child.
"I want a fifth, but I know it would be wrong. I never get any time to spend with Jamie as it is. He has said give it a couple of years, then maybe we can think about it," she told Red magazine.