Magician Paul Daniels has died after being diagnosed with a brain tumour, his publicist has said.
The 77-year-old was at his Berkshire home with wife Debbie when he died in the early hours this morning.
A statement from his publicist said: "One of our most beloved entertainers, Paul Daniels, has passed away at the age of 77.
"The TV star, who was diagnosed with a brain tumour earlier this year, passed away peacefully at home with Debbie at his side in the early hours of this morning.

"Debbie and the family would like to thank everyone for their support and asks that their privacy be respected at this sad time."
Daniels was a performer with a magic touch who entertained TV audiences for decades.
The Paul Daniels Magic Show regularly attracted 15 million viewers in the UK and was sold to 43 countries.
One of the most popular magicians of the 20th century, his success was unrivalled in the magic and entertainment world.
Daniels, born Newton Edwards Daniels in Middlesbrough in 1938, became interested in magic as a young child.
But it wasn't until 1969 that he became a full-time magician when he performed a summer season at Newquay.
The following year Daniels came second in talent show Opportunity Knocks, which led to him being offered a regular slot on the ITV variety show The Wheeltappers and Shunters Social Club.
Then in 1979 The Paul Daniels Magic Show hit UK screens on the BBC and he became a household name.
Famous for his self-deprecating humour, his catchphrase was: "You'll like this... not a lot, but you'll like it."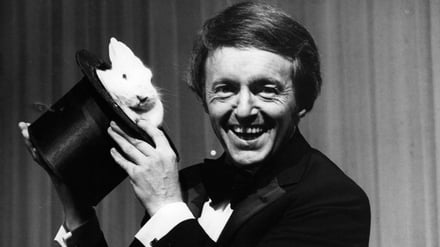 It was at auditions for the hit show that Daniels met his second wife, Debbie McGee.
Daniels was, at this point, separated from his first wife Jacqueline, with whom he had three sons, Paul, Martin and Gary.
Martin Daniels regularly appeared on television with his father as a magician.
When McGee met Daniels, she was a soloist in the Iranian National Ballet in Tehran who had been forced to flee the country when the 1979 Iranian Revolution broke out.
After auditioning, the successful ballerina was initially disappointed to be selected for The Paul Daniels Show in Great Yarmouth.
"I had no idea who he was or what he did. People told me he was a magician, and my heart sank," she told The Guardian in 2014.
"Then I saw him on TV at a friend's house, on the quiz show Blankety Blank. He was very funny - he took his jacket off and had a Superman T-shirt on and red knickers over his trousers. I was in hysterics," she added.
Daniels and McGee married in 1988 and she continued to be his assistant on the show until it was axed in 1994.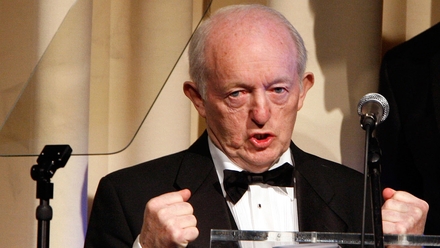 Daniels also presented game shows in the 1980s and 90s such as Wipeout, Every Second Counts and Odd One Out.
Daniels was famous for his close-up magic and entertainment shows, but was less known for his special effects work.
He designed the special effects for the stage productions of Cats and Phantom Of The Opera, and was commissioned by the English National ballet to create magical effects for The Nutcracker.
In his later years, Daniels and his wife toured the country with magic and comedy shows, entertaining old fans and new generations alike with his skills.
Tributes to the legendary magician have been pouring in on Twitter.
Very sad to learn of the passing of Paul Daniels. He was a lovely and very funny man.https://t.co/o8Kd1mikId

— Robert Llewellyn (@bobbyllew) March 17, 2016
Paul Daniels and @thedebbiemcgee inspired an entire generation of magicians, including me and my pals. RIP Paul.

— Richard Wiseman (@RichardWiseman) March 17, 2016
Farewell Paul Daniels. So terribly sad. A joyous man, entertaining until the end. His life was filled with way more than 'not a lot'. Bravo.

— westendproducer (@westendproducer) March 17, 2016
Another fixture of our childhood is gone. Rest in peace. -- Magician Paul Daniels Dies From Brain Tumour https://t.co/FNZknhQXUw

— Simon Delaney (@SimonDelaneyEsq) March 17, 2016
#PaulDaniels passion for what he did was infectious. So many 80s kids fell in 💙 with magic because of him and Debbie pic.twitter.com/0oMWbs2CLU

— Chris R. Wright (@chrisrwright) March 17, 2016
We have lost a lovely, kind and MAGIC man @thepauldaniels Love you & thinking of u @thedebbiemcgee . I shall miss him 'A LOT' xx

— Keith Chegwin (@keithchegwin) March 17, 2016
Sad news that Paul Daniels has died from a brain tumour. The best was when he went Da Ali G show dressed as Ali G. pic.twitter.com/EWEJdFprbm

— Chris Urquhart (@chrisurquhart) March 17, 2016
RIP Paul Daniels. 😔
He was The Man for magic tricks when I was a kid.
Proper character too.

— Dave Coldwell (@davidcoldwell) March 17, 2016