George Clooney reflected on his Irish ancestry while visiting with Syrian refugee families in Berlin with his wife Amal, saying it is important to remember who you are and where you come from.
The couple has partnered with the International Rescue Committee and have marked the fifth anniversary of the war in Syria with a video in which they reflect on the difficulty faced by immigrants, reflecting on their own ancestry in the process.
Clooney spoke about his Irish roots and the way Irish immigrants were treated when they travelled to America, which he described as a "country of immigrants."
"I'm of Irish descent and in America, 100 years ago, we were refugees, my family. Irish were treated terribly in America for a period of time and not accepted, and America learned to accept all of these ideas," Clooney told a number of families in the refugee camp. "It's what our country is, a country of immigrants."
"We have not recently done a very good job of remembering who we are. And being here and talking with you is important to remind them of who we are. And who we have always been - which is you."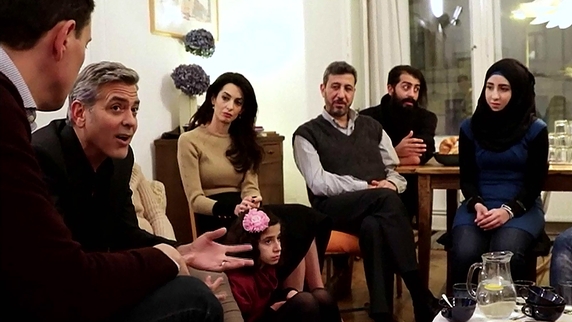 Amal Clooney, a British-Lebanese human rights lawyer, opened up about her own experience seeking asylum.
"My own family is from Lebanon and they also ran away from a war, and were lucky enough to be accepted by a European country in 1982 when the violence there was really bad.
"And many years later, everybody's doing well and my father has returned to Beirut. I hope that, as you say, you will be able to go back to a safe and free Syria," she said.
The Clooneys heard from Syrians about their experiences of watching shootings, being tortured with electricity, and trying to protect their families in their war-ravaged homeland.
Former Labour MP David Miliband, who's now president and chief executive of the IRC, asked Clooney what he had gained from the conversations.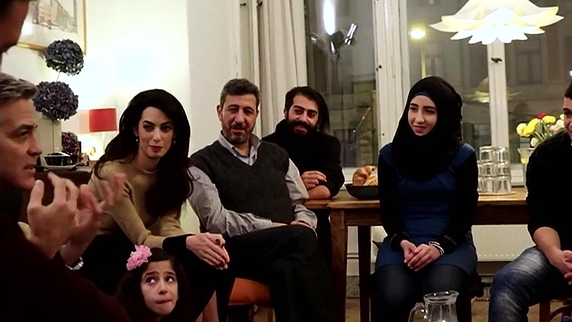 The Hail, Caesar! star said: "It's too much to talk about giant numbers, it's actually easy to dismiss giant numbers.
"But it's very hard to dismiss a young child sitting on the ground crying when her mother is telling the story about how she left, how she grabbed her daughter and sat on the ground and said, 'If I die, I want to die by a bullet because it would be quicker'.
"We, as what we like to think of as a civilised world and nation, always look around at the end of these tragedies and say, 'If we knew, we would have done something'. And the reality of it is of course - we know."