Don't Tell the Bride groom Mark White has revealed that choosing a 1916 theme for his wedding to civil partner Kerwin Villalobos made him feel "very patriotic".
Mark decided on a 1916 theme to mark the centenary, saying it was "an amazing time in history and to be part of it was spectacular".
Speaking to TEN ahead of Thursday night's show, he said: "To stand 100 years on and for two men to stand and be totally and equal and get married, I felt very patriotic."
Despite Kerwinm, who is Venezuela, knowing "nothing" about that time in Irish history, he still "found it absolutely amazing. He actually said on the telly 'I'm Irish now!'
"He knew it was something really important, that Irish people treasure, and what we stand for, and he loved being part of it."
However, the 1916 theme was limiting for Mark, particularly when it came to their wedding attire. Kerwin's style is very modern and trendy, so picking out a 1916 suit was "the hardest thing in the world".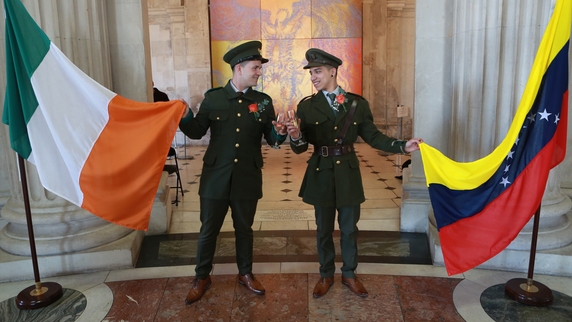 Mark and Kerwin tie the knot in 1916 attire
Kerwin had always dreamed of a "white wedding, a white suit, everything crisp and classy", but luckily he was won over by the decidedly more vintage feel of his wedding suit, telling Mark he felt "very sophisticated, important and powerful". Mark said: "He knew it stood for something".
Mark came up against his fair share of obstacles in the lead up to their big day, not least Kerwin's mother getting stranded in Colombia on her way to Ireland for their wedding, and he said he was "so stressed out" throughout filming, but "in the end it was the most amazing day". He added with a laugh: "Kerwin absolutely loved it, he was in his element!"
The happy couple, who met four years ago in The Dragon bar in Dublin, were civil partnered in 2014, but Mark said being able to get married was very meaningful to them, explaining: "I think this time around it just really made it official. I was thinking on the wedding day 'I'm not going to feel different, we're civil partnered already' but it really makes a difference. You really feel like a proper family unit."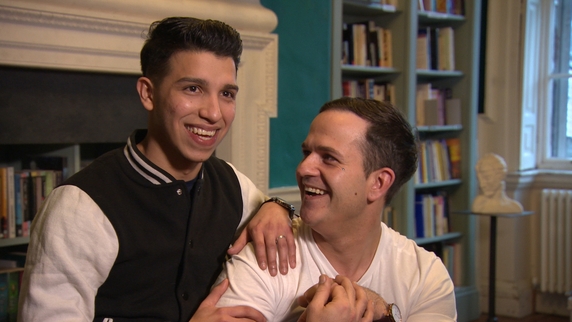 Mark and Kerwin feel like "a proper family unit" since wedding
Married life has been treating the pair well, with Mark saying he "absolutely loves it with his crazy husband, it's been absolutely amazing."